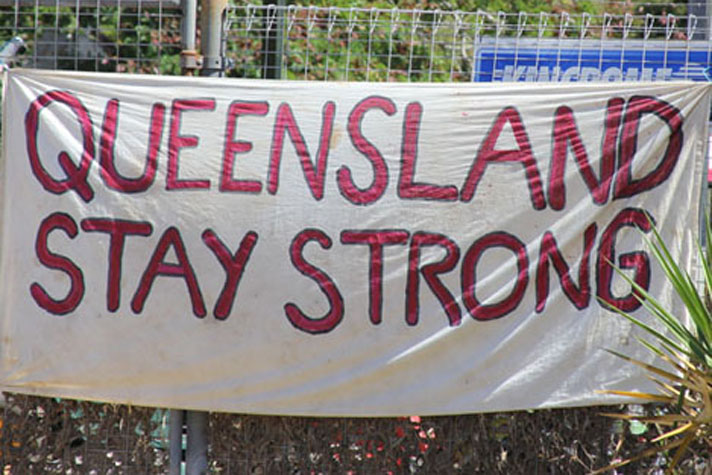 When Al and Toni New arrived in the riverfront Australian city of Bundaberg, Queensland, they waded right into the middle of the worst flooding in the town's recorded history.
"The river was almost 32 feet high," said Al New, manager of deployment and operations for the Billy Graham Evangelistic Association's Rapid Response Team (BGEA RRT) in the United States. "It washed homes completely off their foundations, pushed them across to other areas.
"All the homes in the immediate area of the river were either gone or completely flooded."
The damage in Bundaberg didn't surprise the husband and wife chaplain team. They've witnessed the devastation of Hurricane Katrina in New Orleans and the ruin caused by Superstorm Sandy in the Northeast. There was, however, something different about their assignment on the other side of the world. This time, Al and Toni were on a mission to help train 16 new Australian RRT chaplains how to respond to nature's worst.
The Australian chaplains arrived from all over the country and prepared for on-the-job training in Bundaberg – nicknamed "Bundy," – which flooded in late January after Tropical Cyclone Oswald swept over the northeast side of the coast. The destruction in the wake of the storm provided an opportunity for the newly formed Australian RRT to receive valuable hands-on training.
Australia Sees Need for Rapid Response Team
Interest for a Rapid Response Team in Australia began to develop in 2008, according to Jack Munday, International Director of BGEA RRT and Specialized Ministries. During that time, massive wildfires set the country ablaze, causing utter devastation.
"There was a lot of grief, a lot of trauma," said Munday, who explained that momentum for a new response team was building, but wasn't yet organized enough to take shape.
In July, 2011, the Australian RRT officially got its start. "Sharing Hope in Crisis" seminars took place in Melbourne, Sydney, Brisbane, and Perth. (Sydney and Melbourne hosted Billy Graham Crusades in 1959, the same year BGEA opened an Australian office.)
"Sharing Hope in Crisis set a fire in my heart," said Stewart Beveridge, an Australian chaplain who is now coordinating RRT chaplaincy deployments. "It's a way to get alongside hurting people and care for them. The training and experience with Billy Graham Rapid Response Team has given me confidence and skills to respond to hurting people, to be Jesus' hands and heart in the 'valley of shadows.'"
The floods of 2013 placed Beveridge and 15 other chaplains in the center of one such valley, as they deployed to the first major RRT event in Australia.
"It was key, because it was the first time that the Rapid Response Team and Samaritan's Purse Disaster Relief deployed together in Australia, and it was important to establish the collaboration and coordination between the two organizations," said Munday.
Uncharted Territory
Many of the new RRT chaplains had worked in schools, hospitals, and nursing homes, but had never ministered to people in the midst of natural disaster.
"The power of nature to overwhelm and destroy is humbling," said Beveridge. "It made us all feel a bit smaller."
Al and Toni got to work instructing the chaplains on how to talk with people who have just lost everything. Al says it's all about "the approach."
"You never go up to somebody and ask, 'How are you doing?'" said Al New. "They'll look at you and say, 'Well, how do you think I'm doing? I just lost everything I own.' So our approach is, 'How are you holding up?'"
That simple question can open the door to meaningful conversation that helps the chaplains figure out how they can best meet the needs of the homeowners they encounter.
A Ministry of Presence
About 2,000 homes and 7,500 people in the Bundaberg area were affected by the floods. Breaking up into groups, the team focused on one family at a time.
That's when the chaplains realized their task may be more difficult than they expected.
"The Australians are private people, so praying for them publicly was hard for them," said Al New. "We'd have people tell us they didn't want to pray, so that was something very different."
"The teams had to learn how to be invited into the private space where we Aussies express thoughts about faith and God," said Beveridge. "Prayer in public space is a cultural cringe here. So is talking with a stranger about belief in God."
Determined to show respect and sensitivity for the people of Bundy, the team focused simply on having a "ministry of presence."
"We're just there," said Al New. "And they know we're there to help."
Week after week, the team waded through the muddy streets of Bundy, showing residents they weren't just swooping in for a couple of days and then leaving. That set the RRT apart from many of the other agencies working in the area.
"After a month or so, the government recovery teams finished, the State Emergency Service withdrew, and the RRT 'Blue Shirts' kept coming back," said Beveridge. "That is powerful to the locals – 'You guys still here?' – and before you know it, there is a chat and a cup of tea.
"They earned the invitation by presence, the commitment to stay and support a city as it gets back on its feet."
The people of Bundy gradually began to trust the RRT chaplains and started to share their stories.
"It wasn't until we built relationships in the area, probably about the middle of the second week, before they really loosened up and felt comfortable with us, just sitting and drinking tea," said Al New. "Then they opened up and let us pray with them."
New Friends
During their time in Bundy, the RRT stayed at a YMCA. There, they came in contact with many displaced families who were also temporarily calling the Y "home." One of those families was a married couple that Al and Toni began to talk with.
Arthur and Eve are Bundaberg residents who lost most of their possessions to the flood.
"I was talking with Arthur – just general conversation," said Al New. "Then I switched gears on him. I said, 'Arthur, what's your relationship with the Lord?' He dropped his head and wouldn't look at me."
It became clear that Arthur wasn't interested in talking about God. Al dropped the subject, but he and his wife continued to spend time with Arthur and Eve.
When the time was right, Al tried again.
"I said, 'Arthur, are you gonna let me pray for you before I leave here today?' And he just grinned and nodded his head yes, so I prayed for him right there."
During the next few weeks, the two couples shared meals, prayers, and laughs. Al and Toni also helped Arthur and Eve with their flooded home. Samaritan's Purse volunteers and BGEA RRT chaplains dug up $1,400 worth of muddy jewelry in Arthur and Eve's yard, polished it piece by piece, and presented it back to its rightful owners.
The couple was touched by the genuine care and concern shown by the chaplains. By the end of their time together, Arthur even said he wanted to start going to church.
"He was seeing hope because Samaritan's Purse had helped with his home. He was a changed person when we left," said Al.
Arthur wasn't the only one changed by the partnership between the Rapid Response Team and Samaritan's Purse Disaster Relief.  Al and Toni watched the Australian RRT chaplains quickly hone their skills as they worked with the people of Bundy.
"They were really good chaplains," said Toni New. "You just saw such servant's hearts in each one of them. They went above and beyond."
Once their work was done, Al and Toni parted ways with their Australian counterparts, who remained in Bundy to continue to help and encourage residents.
A Growing Ministry
There are currently 32 BGEA RRT chaplains in Australia, and the interest is growing. That gives Beveridge great hope for the future of his country.
"An active Rapid Response Team allows us to respond across the nation," he said. "Floods, fires and cyclones challenge us every summer. It seems to be getting busier every year. We needed an open door so Christians can share the hope we find in Jesus with our hurting neighbors."
"We sense and feel the Lord's blessing on this fledgling ministry," said Jorge Rodrigues, Executive Director of Samaritan's Purse Australia/New Zealand. "We believe that it will be used of the Lord in increasingly larger disasters in the future."
Rodriques and Beveridge both believe the new RRT has a solid foundation. Al and Toni wholeheartedly agree.
"I think they've got a really good start, and Australia's going to be blessed by their opportunity to deploy and help out their country," said Toni New. "I just feel it was such a privilege and a real blessing that we were able to be there."
To find out more or to support the Australian Rapid Response Team, check out the BGEA Australia website here.