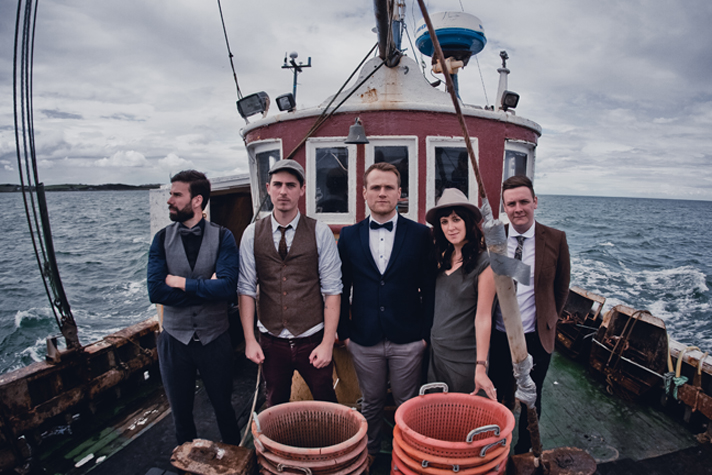 On Sunday, August 3, Northern Irish worship band Rend Collective will take the stage in Asheville, N.C., for An Evening at The Cove.
The event will mark the second year in a row that Rend Collective has taken part in worship at the Billy Graham Training Center at The Cove, and tickets for the event sold out weeks in advance.
Those wishing to learn more about the band can read on for Rend Collective's answers to BGEA's "Ask the Artist" series, featuring each An Evening at The Cove artist of 2014.
And don't forget to check out other upcoming concerts with Mark Schultz, Jason Crabb, NewSong, Fernando Ortega and others.
Q: It seems the intense following of Rend Collective comes from the energetic live shows you guys are known for. What can a person expect to experience from a Rend Collective live show?
A: We're always a little out of breath by the time we've finished one of our live sets—and we like to think that's a good thing! Our hope for what people get out of our music in general, live or on the albums, is a time of authentic and joy-filled worship. As Christians, we have so much to celebrate through what Jesus did on the cross. And because this life can be full of real pain and sorrow, we want our music to help us fix our eyes on the joy that is to come and is ours in Jesus.
Q: Since band members Gareth and Ali now have a baby boy, have you considered making an album geared toward children?
A: Currently, raising a baby on the road is enough to keep us all pretty busy! But we're always drawing inspiration from the things God is doing in our lives, so maybe someday!
Q: The band has experienced a meteoric rise to international prominence. To what do you attribute that quick success? In a related question, what is success in your mind?
A: We've been leading worship together in some shape or form since 2003, so there's nothing about our journey that feels "quick." However, last May we had the privilege of leading worship at the Justice Conference in Hong Kong. The conference met at a local international church where people from all over the world gathered to meet and worship. It was profound and surreal to look out at a crowd representing at least 10 different countries, and watch them all worshiping God— like getting a tiny glimpse of heaven. It's those moments, the ones where we get to step back and see what God is doing in the big picture that keep us writing music and on the road.
Q: This year, BGEA is launching My Hope UK, and Billy Graham's message "The Cross" will debut across the UK this November. What do you see as the biggest hindrance to evangelism in the UK? Is there hope for a revival in the UK?
A: In our experience, people in the UK are the same as people everywhere−affected by the Fall, human pride and a desire to rebel against authority−even beautiful, divine authority. However, the situation in the UK may not be as bleak as some may be inclined to believe. God isn't finished with us yet!
Q: Can you tell us about the other member of your band – "Jingling Johnny"?
A: The Jingling Johnny is a homemade instrument, based off a Turkish percussion instrument, but since modified for Irish "shindiggery!" We make them ourselves, and have actually started an online store where people can buy their own Jingling Johnny to bring back to their home churches.
Read more about last year's performance at The Cove.