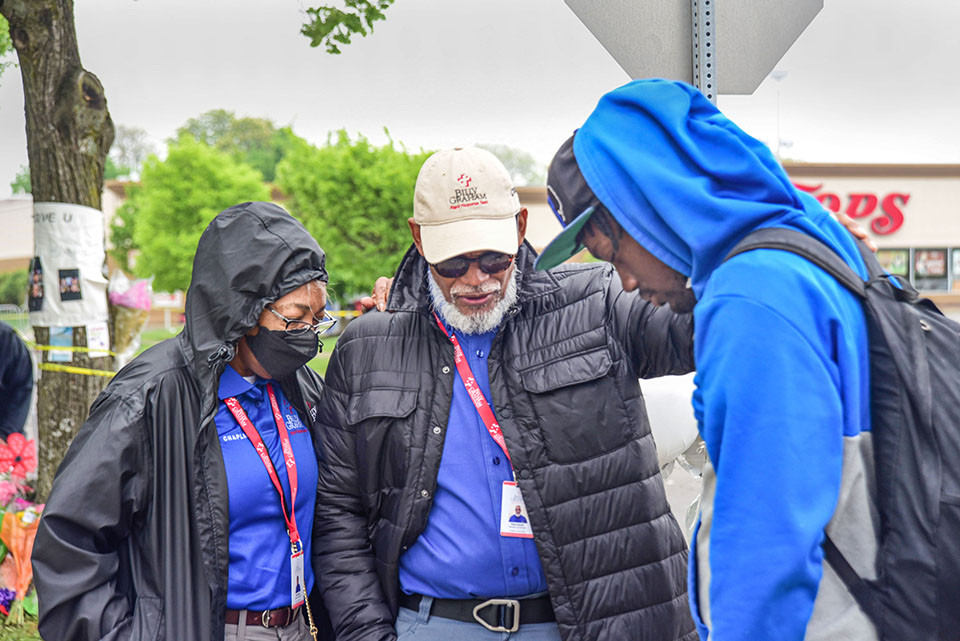 "Comfort all who mourn."
—Isaiah 61:2, ESV
Billy Graham Rapid Response Team (BG-RRT) chaplains have been sharing the hope of Jesus Christ in the midst of conflict and suffering, both domestically and internationally—from Ukraine to Uvalde.
As the BG-RRT serves at a Samaritan's Purse Emergency Field Hospital and medical clinics in Ukraine, nearly 150 Ukrainians have also been trained to serve as chaplains. Together, chaplains have seen God move in the hardest moments of people's lives, including Daniela.*
"Daniela was scared and crying when a chaplain gently introduced herself," Franklin Graham shared. "She said that her husband was fighting on the front lines, and she was terrified that she may never see him again."
The chaplain prayed for his protection and explained how it's possible to have security and peace in the Lord. Through that conversation, Daniela put her trust in Jesus Christ.
Here are 4 more stories of beautiful moments rising from the ashes:

A Wife's Answered Prayers
Chaplains deployed to Tennessee in the wake of powerful storms that left many people without power or safe shelter. In one neighborhood, they met Randy* and Elyse*, a husband and wife whose house had been affected. The couple was happy to chat with the chaplains, and they were thankful for help as they cleaned up. It quickly became apparent that Elyse was a believer but Randy wasn't.
He didn't attend church with his wife, and he didn't believe in God. Despite Randy's lack of faith, he listened as the chaplains shared the Gospel. As they spoke about Jesus Christ—our only refuge from the storms of life—he realized his need for the Savior.
To Elyse's delight, Randy prayed to receive Christ.
'The Tornado Took So Much From Us'
In the aftermath of deadly tornadoes in Louisiana, chaplains met Renee*, a homeowner whose house had been completely destroyed along with her cars. She had just learned that her insurance wouldn't cover the cost of the loss, and she was wrestling with hopelessness.
When the conversation turned to faith, Renee was honest—she had accepted Christ years earlier, but she wasn't walking closely with Him.
Renee told chaplains she prayed only when she was in trouble, but she knew what the Lord could do for her. Years earlier, she had fought depression, and she told the chaplains God had pulled her out of a dark hole then.
When they told her she could start fresh, she was thrilled. Renee prayed to rededicate her life to the Lord and thanked Him for the chaplains' ministry.
"God, the tornado took so much from us," she said. "But You have given us so much more by sending these people into our lives."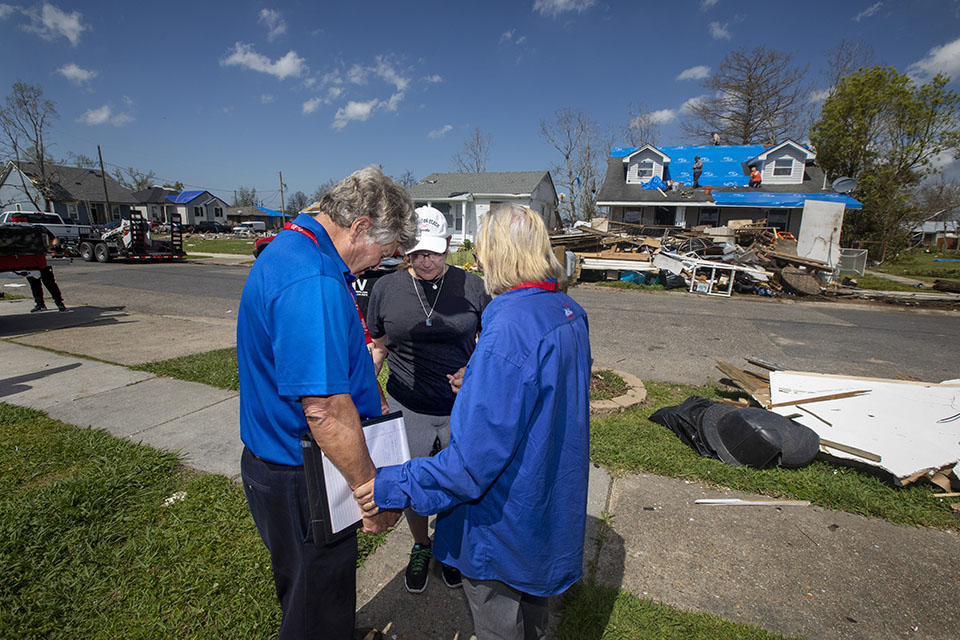 'In the Palm of God's Hand'
At a refugee camp, chaplains met Oksana*, whose son Pavlo* was fighting in Ukraine, their homeland. They comforted her as she cried and shared how fearful she was for his safety. Oksana hadn't heard from him, and now she lived with constant anxiety.
Later in the conversation, chaplains shared the Gospel with Oksana and told her that God was holding Pavlo in the palm of His hand. She gasped and immediately responded that she had dreamed about her son being in God's hands.
After listening closely to the chaplains talk about the Good News, Oksana decided she was ready to receive Jesus Christ. After praying, she was comforted with the knowledge that the Lord was holding both her and Pavlo in His hands.
Strength for Today, Hope for Tomorrow
In Oklahoma—where tornadoes recently destroyed many homes—chaplains met Lynnette*, who lived in one of the affected neighborhoods. She told chaplains she had no hope in life. When they told her that Jesus Christ is the only source of lasting hope, she said she'd tried attending church the past six months after a friend invited her.
Despite her frustration, Lynnette listened intently as chaplains explained what a personal relationship with Jesus means. She had never invited Him into her heart, but she wanted to now.
Once chaplains finished sharing the Good News, Lynnette prayed to surrender her life to the Lord. Before their time ended, she told them that she was starting to feel the peace and hope she had been longing for.
* Names and photos changed to protect privacy