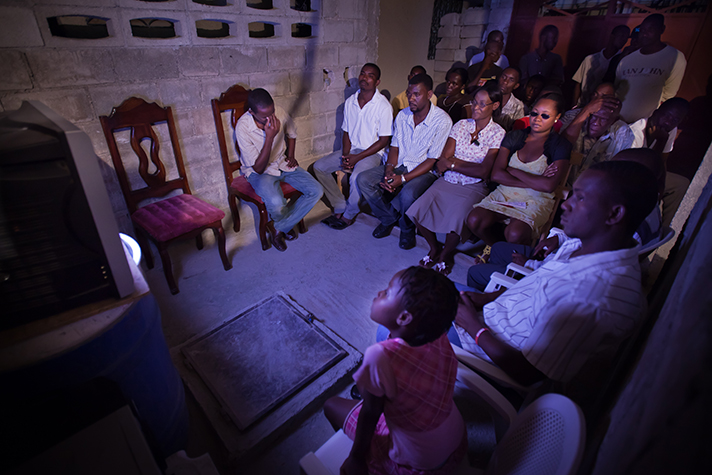 They were told there were 3,000 churches in Haiti.
At least that's how many were on the official books.
But when the My Hope Haiti team started to spread the vision of a countrywide evangelism project that would be broadcasted on television, radio and projectors to every corner of the country, that number started to swell.
Nearly double the original report of known churches — more than 5,300 congregations — took part in My Hope Haiti with more than 120,000 decisions for Christ registered.
"It's amazing. It's amazing," My Hope Haiti director Arturo Hotton said. "So many souls changing their lives. That's the harvest."
My Hope — a world evangelism program from the Billy Graham Evangelistic Association — uses the medium of television, and in the case of Haiti radio and projectors, to show a 30-minute evangelistic program of music, testimony and a translated classic message from Billy Graham or Franklin Graham.
Matthews, the hosts from local churches, invite their friends, relatives and neighbors to watch this program on one of three nights — July 21-23 in Haiti — and immediately after it's over give a brief testimony and invite their guests to pray to receive Christ as their personal Savior.
Hotton is quick to give God all the glory for the project, which had to be improvised, based on the lack of electricity and power supply around the country.
"The foundation of the project is prayer and unity," he said. "When those things are together, there is blessings from God and we can see the harvest."
Stories are pouring in, from individual lives being transformed and set free from spiritual warfare, to churches growing and being started from scratch.
"One small village had 100 decisions so they started a new church because of My Hope," Hotton said.
Jeremy Anderson, deputy director for My Hope Haiti, traveled around the country over the past several weeks to witness how God has transformed lives, often through one of 50 mini-projector showings.
"There's churches started up in the north and in the south," Anderson said. "They're clamoring for projector shows everywhere."
Anderson estimates that400 projector showings have taken place since the July 21-23 weekend and will continue until late October.
"There's teams in Les Cayes doing a show every single night," said Anderson of the southern coastal town.
Anderson, working on his sixth My Hope project, was particularly amazed at how God moved so many people to help spread the Gospel message. "People realized they could be a part of something big," he said.
And the response, he added, came largely from those "wanting to see if the power of God is meaningful in their lives."
On Nov. 10, My Hope Haiti will officially close with a national celebration, as the My Hope coordinators, national committee members and national denomination leaders will gather together to rejoice overwhat God has done in their nation.
"It will be a great time of celebration to thank the Lord for the results," Hotton said.