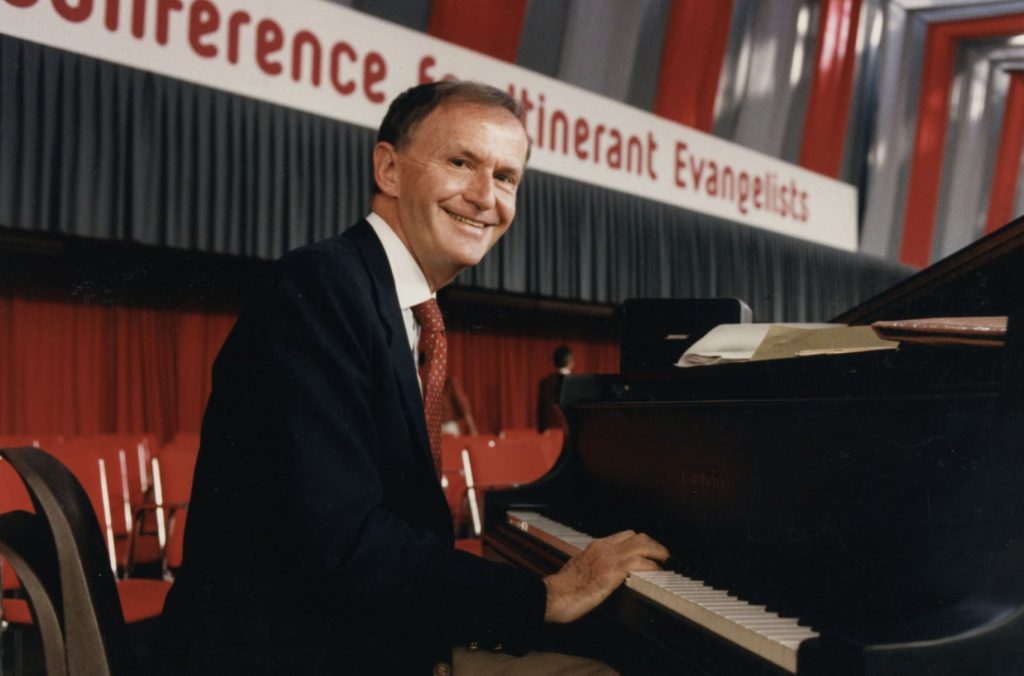 Tedd Smith, longtime pianist for the Billy Graham Evangelistic Association (BGEA), passed away on Thursday, Feb. 23.
Born in London, Ontario, in 1927, Smith joined the BGEA team in 1950 and served as its pianist for over five decades, most notably as accompanist to singer George Beverly Shea.
"Through the years, I have always known who would be sitting at the piano on my right in virtually every crusade: Tedd Smith," Billy Graham said in his autobiography Just As I Am. "Not only is he an accomplished instrumentalist, but he's also a talented composer and arranger—and a poet too."
A graduate of Toronto's Royal Conservatory of Music, Smith joined BGEA at the Columbia, South Carolina, Crusade in 1950. He had been a pianist and secretary with Youth For Christ and performed both duties in the early BGEA days.
In addition to his notable contributions on the piano, one underrated task Billy Graham remembered Smith taking on was making sure a warm glass of water was always on the pulpit. "Ice water only tightens the throat muscles," Billy Graham said.
Smith played for American troops serving in Vietnam, in concert halls across the U.S. and Canada, and in countless international venues at Billy Graham Crusades. "He compels you to look, listen, and think through his music and poetry," Billy Graham recalled a New Zealand critic once writing about Smith.
He often worked with BGEA choir director Cliff Barrows to arrange songs and coordinate the music program. In the later years, he helped develop special youth night events, aimed at reaching the younger generation for Jesus Christ with contemporary Christian music.
"His piano skills were remarkable," said David Bruce, longtime executive assistant of Billy Graham and current executive vice president of the Billy Graham Library and Archive and Research Center. "He wrote a number of popular spiritual songs, collections of piano and organ music for churches, as well as hymn arrangements."
Smith also composed the musical score for The Hiding Place, perhaps the most well-known movie produced by BGEA's film ministry, World Wide Pictures.
"He was quiet and unassuming in his manner," Bruce said. "A wonderful spirit of encouragement and grace to all."
Please pray for Tedd Smith's family during this time of loss.