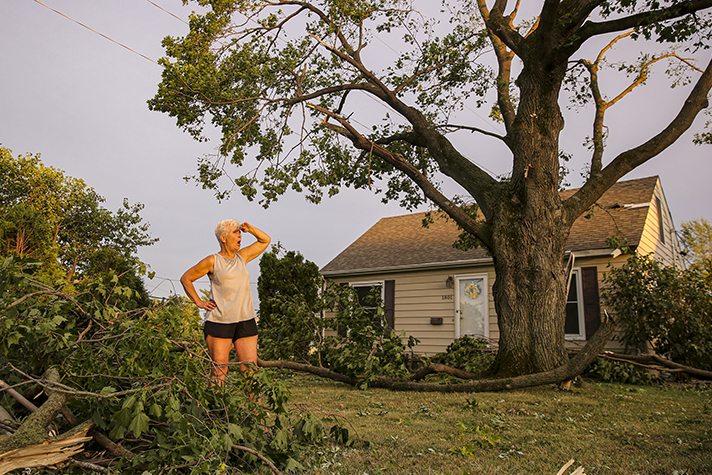 A destructive derecho, a fast-moving line of powerful windstorms, raged on a 700-mile path through the Plains and Midwest on August 10. The Billy Graham Rapid Response Team (RRT) has crisis-trained chaplains serving alongside Samaritan's Purse to offer care to affected communities in western Iowa.
"We are extremely saddened anytime there is a loss of life," RRT Assistant Director Josh Holland said. "Our thoughts and prayers go out to the many people who were impacted by the strong storms that moved through the Midwest, specifically the massive destruction in the Cedar Rapids, Iowa, area.
"We are deploying crisis-trained chaplains to share the love of Christ with people who are going through a tough time in this already very difficult year," Holland continued. "We have deployed to the Cedar Rapids area in the past and appreciate the opportunity to serve that community once again."
In addition, the team has expanded the deployment to Tama County, Iowa, just 60 miles west of Cedar Rapids.
Three people were killed in Iowa and one in Indiana from the unusual storm, which had winds exceeding 100 mph in some areas. Flattened cornfields, overturned vehicles and downed trees on homes is just some of the extensive damage in Iowa, Nebraska, Illinois and Indiana.
Even plywood turned into projectiles—going straight into walls of some houses—during the storm that knocked out more than one million people's power.
Samaritan's Purse volunteers are repairing homes while Billy Graham chaplains are listening to homeowners' and locals' stories—and offering to comfort and pray with them.
RRT's Mobile Ministry Center is available for anyone who may want to stop by for prayer or just to talk.
Derived from the Spanish word for "straight," derechos occur across the United States a few times per year, but normally at less strength. Known to also trigger tornadoes, Monday's storms resulted in at least one twister near Lake Michigan in a Chicago neighborhood.
In 2018, chaplains also deployed to nearby Marshalltown, Iowa, when a tornado injured at least 17 people.
Please keep all those affected by the widespread storms in your prayers.