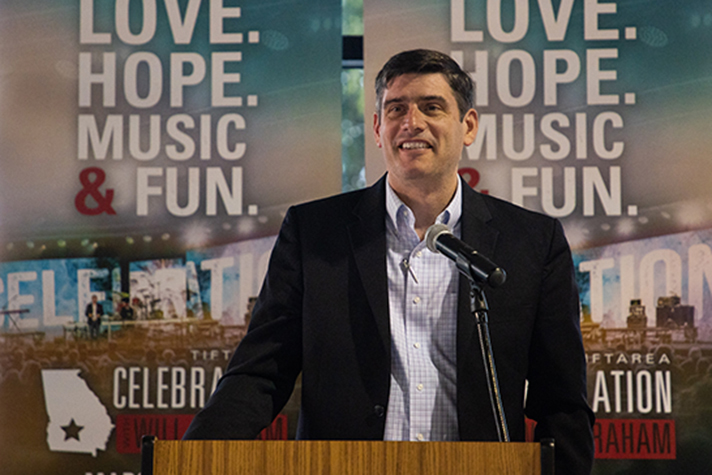 Coronavirus update as of March 15: The Tiftarea Celebration with Will Graham, originally planned for March 20-22 at the UGA Tifton Campus Conference Center, is being postponed until a yet-to-be-determined date. The decision was made following the March 14 state of emergency declaration from Georgia Gov. Brian Kemp, and in communication with UGA Tifton leadership. Read more, including a statement from Will Graham, in this press release.
Preaching Jesus in the Bible Belt is commonplace. So why hold a large evangelistic event in South Georgia, when there are churches at every turn?
Because the Holy Spirit is moving.
And, no matter how great the church, many people won't set foot inside. But they might go hear live music with a message of hope somewhere else.
Celebration Artist Lineup
Aaron Shust
The Afters
Skillet
Tedashii
Go Fish
Rhett Walker
That's why excitement for the Tiftarea Celebration with Will Graham in Tifton, Georgia, is running high. Christ-followers got behind the outreach in force after a sleepy start last fall when family and friends were busy over the holidays.
The event needed a jump start. Church leaders and Celebration staff prayed and realized this challenge was bigger than anything they could do. So, they decided to hold a rally for God—with worship, prayer and an inspirational message.
Celebration Director Bob Hickling got in touch with Christian film producer and Georgia resident Alex Kendrick, one-third of the Kendrick brothers who are behind films like Overcomer, War Room and Fireproof. Alex Kendrick had space in his schedule.
On an unusually warm January night, more than 450 Tiftarea residents came out to hear an inspirational message from Kendrick—and worship with the Jason Lovins Band—which got the ball rolling.
"It woke everyone up," Hickling explained.
Eleven days later, evangelism classes called the Christian Life and Witness Course kicked off, with 1,400 people taking the classes to learn how to share their faith.
Since then, several prayer rallies have been well attended and prayer has gone up for those in the area who don't know Jesus. Volunteers even took shifts in the middle of the night during a 24 Hours of Prayer event. "Every hour was covered," said Hickling. "It was very powerful."
Organizers expected about 200 women for Thursday's Ladies Evening with Kendra Graham—Will Graham's wife. More than 1,300 women signed up to attend the worship night and hear an encouraging message from Kendra—a Bible teacher and speaker.
Now the Celebration is only a week away, to be held at the University of Georgia's Tifton Campus Conference Center. Hickling got emotional talking about "God's hand in the whole thing.
"Last fall, many were wondering if it would come about," he reminisced. "To see God move so much in such a short amount of time, that's been really encouraging to us.
"God's really blessing in a mighty way and stirring the hearts of the people."
Here are three things you can pray for as the Tiftarea Celebration with Will Graham approaches.
1. For those who don't know Jesus, that God will stir their hearts.
2. That people will invite and make plans to bring an unsaved friend with them to the event.
3. For Will Graham as he prepares the messages God gives him to share with the Tiftarea.
Have you tried everything else? Find life-changing hope in Christ.