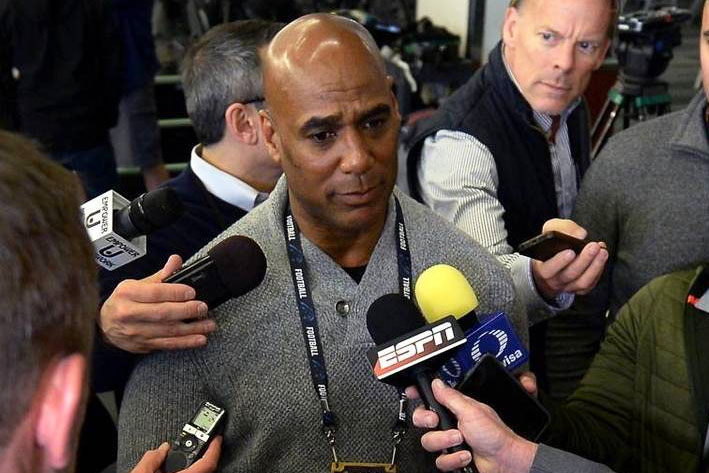 On the 17th anniversary—to the day—of the worst Super Bowl of his life, former NFL all-pro Eugene Robinson held a private meeting last weekend with Carolina Panthers players to warn and encourage them not to spoil their Super Bowl 50 experience.
He says God began putting it on his heart at least two months ago.
The meeting happened at Bank of America Stadium in Charlotte, North Carolina, shortly before the Panthers boarded a flight to California for their championship matchup this Sunday against the Denver Broncos. That's the same team Robinson faced as a member of the Atlanta Falcons in Super Bowl XXXIII on Jan. 31, 1999, following a tear-filled, sleepless night.
"Guys, you've got a great opportunity," Robinson, now part of Carolina's radio and television broadcast team, says he told the Panthers. "Go ahead and seize the moment. Don't be like me."
Don't be like me were hardly the words anyone would have expected to hear from Robinson on the morning before Super Bowl XXXIII. He was presented the prestigious Bart Starr Award that day by Athletes In Action, a Christian organization that annually recognizes the NFL player who "best exemplifies outstanding character and leadership in the home, on the field and in the community."
But by 9 p.m. that evening, Robinson's world experienced a shocking crash. He was arrested for soliciting an undercover police officer in a seedy part of Miami, about a 15-minute drive from the Falcons' team hotel.
"I allowed my faith to be derailed," he said. "Sin is so deceptive. Little steps along the way get you to a place you never thought you'd be."
'A Black Eye'
Robinson sobbed all night long, devastated that he had wrecked his witness for Christ. For years, he had boldly shared the Gospel with teammates and anyone who would listen.
"Before that night, my whole life was characterized by being the guy who delivered the Word of God," Robinson, now 52, told Decision Magazine this week. "Every team I was on, I had always delivered Jesus.
"So I cried out and said, 'Look what I've done to the kingdom of God. Lord, I've given Your kingdom a black eye. I am so sorry.'"
The next morning, amid the chaos, Falcons coach Dan Reeves decided to let Robinson play against the Broncos, saying we're all sinners and that he loved Robinson.
Early in the game, Robinson, a defensive back, gave up an 80-yard touchdown pass and later missed a tackle on a long run that led to another score.
Denver soundly defeated Atlanta that day, 34-19.
Almost immediately, Robinson's closest Christian friends, including now-deceased Hall of Fame defensive lineman Reggie White, reached out to him.
Both of the former Green Bay Packers teammates cried, according to Robinson, as White told him, "Gene, we have a history in this country of Christians kicking other Christians when they're down. I want you to know I will not keep you down. I will stand with you."
'A Huge Message'
This week, as Robinson stood in the lobby of the San Jose Convention Center recalling those painful events, Panthers' all-pro linebacker Thomas Davis walked by.
"That's my guy," Robinson said admiringly.
Ironically, Davis is scheduled to receive this year's Bart Starr Award on Saturday, one day before the Panthers play the Broncos.
Davis and the rest of the Carolina team were moved by Robinson's speech. Throughout interviews this week, players and coaches have talked about how powerfully Robinson's message and vulnerability impacted them.
"I think it's one of the bravest things I have ever seen a guy do," said head coach Ron Rivera. "For him to step up and relive that, to tell the guys that he was wrong and [that he forgot] the reason he was there, that's a huge message … a great message."
Quarterback Cam Newton added: "I think a lot of our guys stepped back and understood the importance of staying focused in an environment like this."
Robinson's courageous talk was merely the latest development in the amazing restoration God has brought about in his life.
He marvels at the fact that his wife, Gia, never left his side and that their 30-year marriage is strong.
"She could have easily left me, and who could blame her?" Robinson said. "She could have taken me for all of my money, and I would gladly have given it to her. But that didn't happen because my wife loves the Lord Jesus Christ more than she loves me.
"She showed me unconditional love. That's a real Proverbs 31 woman."
'I Would Stop a Super Bowl for You'
Robinson is highly regarded by the Panthers, serving as a mouthpiece for the organization. He also coaches high school football, wrestling and track at Charlotte Christian School. His boss there is former Panthers kicker John Kasay, the school's athletic director.
"Me, the guy who was the bad apple, I coach kids," Robinson said, clearly touched by the role. "Parents entrust me with their kids. If I could show you all the texts of thanks and encouragement I've received from parents, you'd hardly believe it."
And here he is, back at the Super Bowl. He played in two with the Packers before joining the Falcons and later finishing his playing career with Carolina in 2000. This is his second Super Bowl with the Panthers' broadcast crew.
"Who would ever think that God would put me right back here at this venue?" Robinson said. "It's crazy. Who can draw up a script like that? That's not anything else but the Lord!"
The part of the story that Robinson says he has rarely told is the intimate way God has held him close, even on his darkest night. He said he was literally "arrested" by God's love and faithfulness to the scriptural promise to never leave nor forsake him.
"God reminds me every year about this time—and every day—that I belong to Him," Robinson said. "It's like He has reached down to me and said, 'Gene, if you were the only person in the world, I would save you. I love you. I would stop a Super Bowl for you."
Forgiven and redeemed, Robinson is at peace with the fact that some consequences of his sin remain.
"I understand that you can't have me on a Wheaties box," he said. "I'm not foolish enough to think that everyone is going to like me. I'm not even asking for that. I just want to keep moving forward in Jesus."
Subscribe to Decision Magazine, the Evangelical Voice of Today.