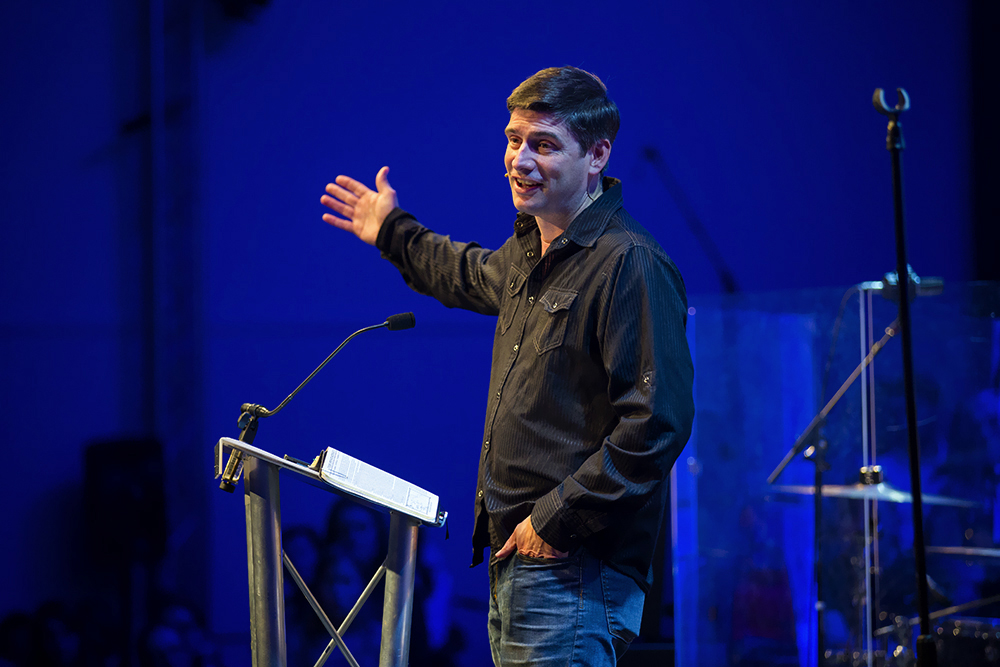 "We want to bring the Good News of the Gospel to our region through the Will Graham Celebration in April of 2018, and tonight we're taking the first big step toward that vision. So let's get this started."
With these words, Jim Harlan, a local executive who spent decades working with the Eastman Chemical Company in the Tri-Cities (Tennessee) area, greeted more than 300 pastors and church leaders on Oct. 26 for the launch of the Tri-Cities Region Will Graham Celebration.
This event, which has been several years in the making and which was detailed at length to the passionate and excited audience, will be held April 27-29, 2018, at Freedom Hall Civic Center in Johnson City. Harlan will help guide the efforts of many local committees that will be involved in planning and preparation over the coming months.
Jeff Oaks, senior pastor at Hosanna Fellowship in Johnson City, is working with area pastors on behalf of the Celebration. He recalled his grandmother bringing him to Neyland Stadium in Knoxville, Tennessee, for a Billy Graham Crusade in 1970. She was singing in the Crusade choir.
"It was wonderful to see all those people there, and they were singing about Jesus. It marked my life. … Fast forward many, many years later and here we are with the opportunity in a different city, a different generation, to be able to actually gather people together so they can hear the Good News of Jesus in a very powerful way," said Oaks.
"This is a moment in time for the Tri-Cities."
Rod Barnett, director of North American Festivals for the Billy Graham Evangelistic Association, called for prayer.
"This is not going to happen just because we say it is. It's going to happen when you and I together come before the throne of God and we cry out for God to do it again. That's our prayer. That's the heart of what we're praying for," he said.
"We've experienced those movements of God. We've experienced those times when God has shown up and moved in a powerful, powerful way. Our prayer is simply, 'God, we need you to do it again.'"
When his time came, Will Graham took the podium to share updates on his grandfather and his ministry, and to talk about the eternal importance of the upcoming Celebration.
"The name Jesus changes everything. And that's what this is all about. Seeing lives changed. This is not about Will Graham. It's not about Billy Graham. It's not about your church. It's not about you. It's about a man named Jesus," said Will.
"And Jesus wants to change lives. He wants to give the blind man sight. He wants to heal the broken-hearted. He wants to bind the wounds. He wants to give everlasting life. My friends, that's what this is about."
What will be the end result, as the name of Christ is proclaimed and people in the Tri-Cities place their faith in Him?
Jim Harlan has an idea.
"Lives will be changed, and that change will be evidenced by how people conduct their lives," he said. "As we share the message to love God and to love people, hope will be reborn!"
Will you join us in praying for the Tri-Cities region? Visit TCRCelebration.org for updates on the upcoming Celebration and how you can help support the endeavor with your prayers.