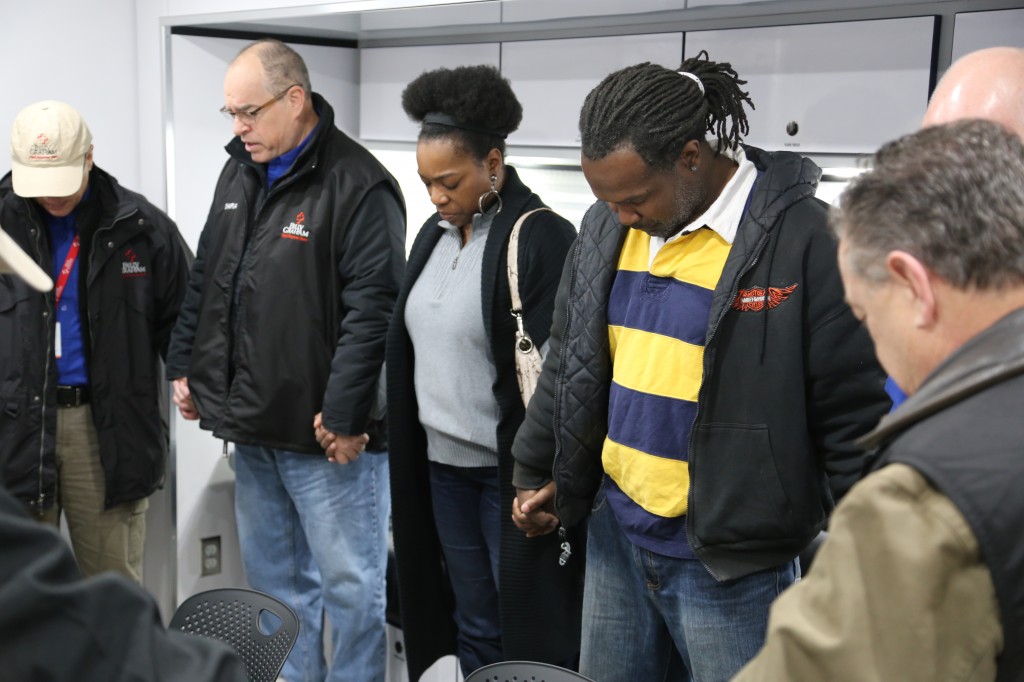 The day before Thanksgiving, a team of crisis-trained Billy Graham Rapid Response Team chaplains arrived in Ferguson, Missouri.
They were responding to rioting and unrest in the wake of a grand jury's decision not to indict police officer Darren Wilson for fatally shooting 18-year-old Michael Brown.
While many of the chaplains have served in the aftermath of hurricanes, tornadoes and other disasters, they didn't know what to expect in Ferguson, where buildings are burned or boarded up and tensions are running high.
What they found was a city searching for hope, open to those willing to get their hands dirty and help. Two weeks after their arrival, the chaplains say the Ferguson community has embraced them, and God has exceeded their expectations.
A Ferguson Wedding
On Dec. 8, the Rapid Response Team got word that a house fire in Ferguson had left a family of seven homeless. Three chaplains visited the parents and five young children to pray with them and help connect them to meals, clothing and other necessities.
The parents shared that they had been together for nine years but were never married. As they told the chaplains how thankful they were that God had allowed them to escape the fire, they decided to rededicate their lives to Christ.
And then they made another exciting decision: they wanted to get married.
"They truly do love one another," chaplain Terri Naber said. "They want to do it God's way. They want God's blessing since they rededicated their lives."
They just needed a location. And a pastor. And everything else that goes along with a wedding. But the fire had left them with nothing.
The chaplains connected the couple to a local pastor, who quickly began some accelerated pre-marital counseling and agreed to marry them on Friday, Dec. 12. The location: Ferguson's Ground Zero, where the Rapid Response Team's mobile command unit has been attracting residents from all walks of life.
"We're going to go out and buy some bows and ribbons and try to make it look like a wedding," Terri said. The chaplains are also ordering a cake and some food for a reception. They believe the community could benefit from a joyful celebration in the midst of so much hopelessness, and they're thrilled to be part of it.
Up All Night
Since the Billy Graham Rapid Response Team arrived in Ferguson, the chaplains have been setting up their mobile command unit in the same parking lot every morning.
When the chaplains arrived early Tuesday, they noticed a pickup truck was parked in their usual spot. Chaplain Kevin Williams recognized the driver as a young man he had spoken with earlier.
"He told Kevin, 'Man, I haven't slept all night,'" said Jeff Naber, manager of chaplain development and ministry relations. "'I kept on thinking about what you told me—about God and God's love and eternal life.'"
The man told Kevin he wanted to pray to receive Jesus as his Savior, and he did. But he didn't want to keep it to himself. He immediately drove home, picked up his girlfriend and brought her to meet the chaplains. She listened to her boyfriend explain what his decision meant to him, and with tears in her eyes she prayed to accept Christ, too. The couple plans to come back to see the wedding ceremony at the mobile unit on Friday.
Serving First Responders
At the invitation of the Missouri State Fraternal Order of Police, Rapid Response Team chaplains have been ministering to police officers in both St. Louis and Ferguson.
"The Ferguson Police Department has no chaplains," Jeff Naber said. "The Billy Graham Rapid Response Team is assuming that role. We've been meeting with them every day, praying with them and asking if there's anything we can do.
In addition to talking with law enforcement and first responders who are on duty, the chaplains have been spending time with an officer from a neighboring area who was hospitalized after job-related stress and ongoing personal struggles pushed him to a breaking point. Several chaplains, including one with 30 years of law enforcement experience, have met with the officer and his wife. The team is part of an ongoing effort to provide the family with emotional and spiritual care.
Moved by a Hug
Like most cities, Ferguson has gang activity, and the chaplains have encountered gang members during their ministry there. Earlier this week, a young man approached Jack Munday, the Rapid Response Team's international director, as he stood near the mobile command unit with some other chaplains.
The man wanted to tell them about a gang member he knew who had a moving encounter with a Rapid Response Team chaplain.
The man said a chaplain had approached the gang member while he was walking down the street and had given him a hug. They started talking, and the chaplain told him God loved him, and so did he. The gang member was a little stunned and later told his acquaintance that it was the first time a grown man had ever hugged him or told him he cared about him.
Check back with BillyGraham.org for more updates on the Rapid Response Team's ministry in Ferguson.