Nik Wallenda is a seventh generation aerialist probably known best for being the first person to walk over Niagara Falls via steel cable in 2012. Tonight, he plans to cross over a bubbling Nicaraguan volcano with his wife, Erendira, by walking on a steel cable. Embracing the heights and daredevil danger to break multiple high-wire world records, Wallenda said he finds his peace in Jesus Christ. He and his sister Lijana made history on June 23 walking across New York's Times Square from 25 stories above ground. 
This story was originally published on August 9, 2012, after Wallenda's walk across Niagara Falls. 
The worst part about walking across Niagara Falls on a two-inch wire had nothing to do with the raging winds.
Nor was it about the heavy mist, constantly slamming his face and impeding his vision, or the wire swinging 10 to 12 inches side-to-side, bobbing up and down.
For Nik Wallenda, peering down at the roaring mega-falls wasn't the hardest part of his June 15 prime-time stunt, broadcast live on ABC.
"The wind would hit me on the front, back and side within seconds it seemed … boom … boom …boom," Wallenda said. "But the one thing I didn't expect was there was nowhere to focus."
Fortunately for Wallenda, finding that laser focus during the myriad of preparations was not nearly an issue. For over two years, the 33-year-old (now 40) fought to accomplish this dream—to become the first person to traverse a wire over Niagara Falls from the United States to Canada.
And he did it all on live TV, praying every step of the way.
"It was more peaceful that you would imagine," he said. "I trust in Jesus Christ, my Lord and Savior. That's where I find my peace, the peace that passes all understanding."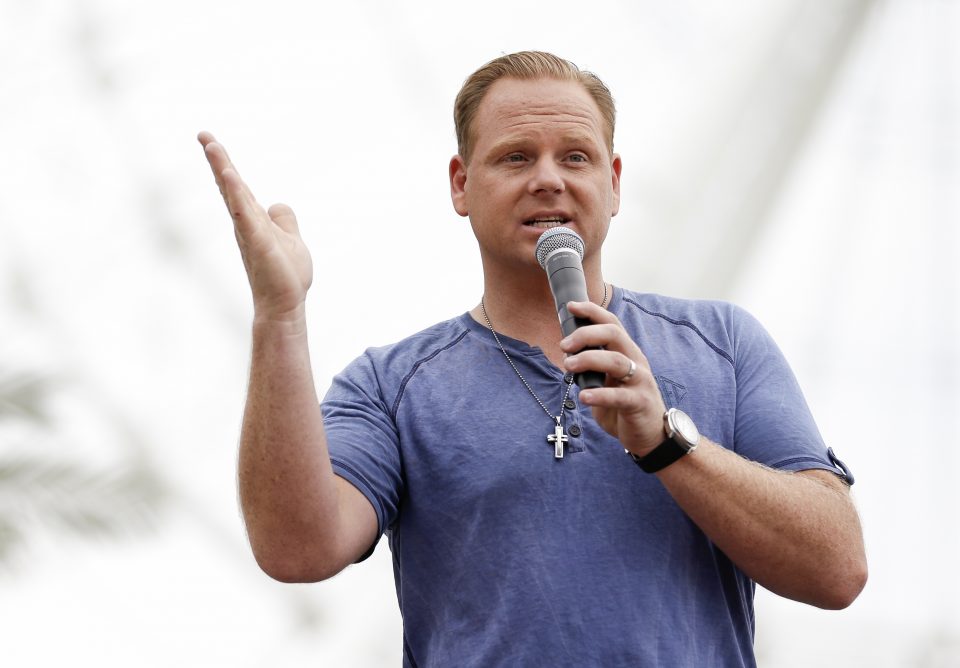 Yes, Wallenda persevered all right, but it took overturning two laws in two countries⁠ that banned stunts at Niagara Falls. He had to go through Homeland Security, the New York State Senate and clear it with several ecological groups.
Things were so hectic, during one stretch, Wallenda's inbox was filling up with 700 emails a day.
"So many times in that process, I was told, 'No, you can't do it,'" said Wallenda. "I just trusted in God. So many times in that process He opened door after door after door."
And when the 25-minute, 1,500-foot walk between Goat Island in the U.S. to Table Rock in Canada was finally complete, he was met with a customs agent, who, on cue, had one question for Wallenda:
"What was the purpose of your trip?"
Without missing a beat, Wallenda responded: "To inspire people around the world."
'Saved By Grace'
Wallenda's testimony is the perfect mix of normalcy and craziness.
He comes from a long line of tight rope walkers—he's the seventh generation from the Flying Wallendas lineage, which spans over 200 years—but grew up in a regular Christian home in Sarasota, Florida.
In fact, he's the third generation of Christians in his family, and going to church and talking about Jesus is "something I grew up knowing."
Wallenda accepted Christ into his life at the early age of 4, with his Sunday School teacher leading him to the Lord. "My mother [Delilah] found my commitment card," he said.
But as someone who started practicing tight-rope walking at the age of 2, and grew up dreaming of stunts such as the "Niagara walk," Wallenda tried hard not to be any different than those around him.
It's a strong personal conviction of his to not live as if he's "better than everybody."
"One of the challenges we have as Christians in general is we tend to give off this persona that we're in this elite club," Wallenda said. "The truth is that the only difference is I know I've been saved by grace through faith. That Jesus died on the cross for my sins. That's what sets me apart from anybody that doesn't know that.
"Other than that, Romans 3:23 says 'All have sinned and fallen short of the glory of God.' Therefore, we're all created equal. We've all made mistakes."
But when you're suspended 100 feet in the air—like his 1,300-foot-long Atlantic City Beach walk between two casinos on August 9, 2012—or daring to eclipse the great Niagara Falls, mistakes in Wallenda's sport of wire walking can be deadly.
And he doesn't take that lightly. Which is why he trains so heavily.
"I believe God has given me a gift and a talent that can be used to bring glory to His name," said Wallenda, who trains five to six hours a day. "I don't go up there unprepared or untrained and say it's up to God whether I make it or not. Not in any way."
Just two-and-a-half weeks before the Niagara Falls walk, Wallenda found out ABC was requiring him to wear a safety harness, the first time he's ever walked with one. Even though he fervently tried to get around wearing it—he says every wire walk has an immediate rescue plan in place—he didn't let that prevent him from making history.
"I train very long and hard, just like any athlete will train for any sporting event," he said. "The fact is, if I were to lose my life, I definitely know where I'm going."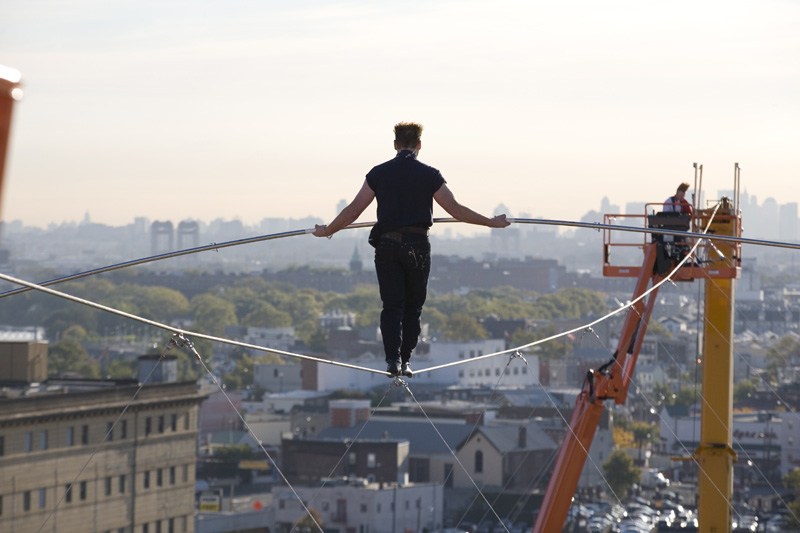 'It's About Focusing'
What the future holds for Wallenda is a bit of a mystery, but he's the first to admit he's OK with it. The Lord has long provided for him and his wife, Erendira, as well as their three children.
How long Wallenda keeps wire walking is anyone's guess, including his own. But he will take a cue from family history on knowing when to say when. His great-grandfather Karl Wallenda suffered a fatal fall in a short San Juan, Puerto Rico, stunt in 1978 at the age 73.
"My great-grandfather was too old to be on the wire. He could walk on the wire, but when he encountered a problem, he was not strong enough to hold on," Wallenda said. "It's like telling an artist to put down their paint brush. They're still going to paint at 60, 70 or 80 years old."
Wallenda and his mother finished his great-grandfather's walk last June as a way of paying tribute. Born a year after that tragic accident, Wallenda actually walked over his mother during the homage walk, which took place on the same wire connecting the same two San Juan buildings.
The walk was "in honor and in memory of him," said Wallenda, who added, "Every single walk, you have to take just as serious."
And for this death-defying artist, who once hung by his jaw under a helicopter at 280 feet in the air (for 30 seconds), taking his walk seriously is all about focus.
Just like his Niagara Falls triumph, failing to have the proper focus can turn everything upside down if you're not careful.
"I think that in our walk with Christ, there's so many distractions in this world, trying to pull us left and right, trying to distract you," he said. "It's about focusing on the other side—staying focused on our Lord."