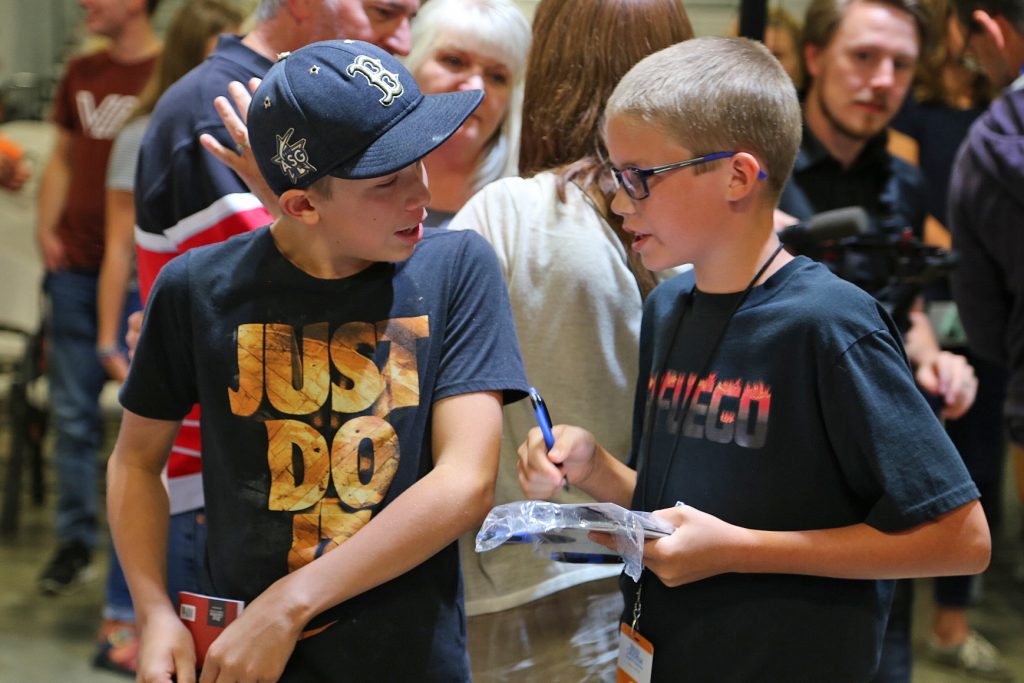 There's a place in Montana called Last Chance Gulch. It's in the capital city of Helena where a group of prospectors discovered gold in 1864⁠—a last-ditch effort for four men down on their luck.
Saturday night, Will Graham told hundreds in Helena that it doesn't matter if you're wealthy or poor—you can behold the greatest treasure of all without parting with a penny.
"It's a free gift given to all of humanity," he said.
That's the gift of Jesus Christ who alone offers freedom from the sin that holds us back from living our best lives.
It was night two of the Big Sky Celebration, and Graham wanted to make sure each person filling the building left knowing exactly who this Jesus is.
What's the most important question ever asked? he posed to the crowd. He pointed to one verse in the Bible as the answer.
"Who do you say that I am?" Jesus asks His followers in Mark 8:29.
"This is a personal question," Graham told over 1,000 listening at the fairgrounds in Helena. "Who is Jesus in your life?"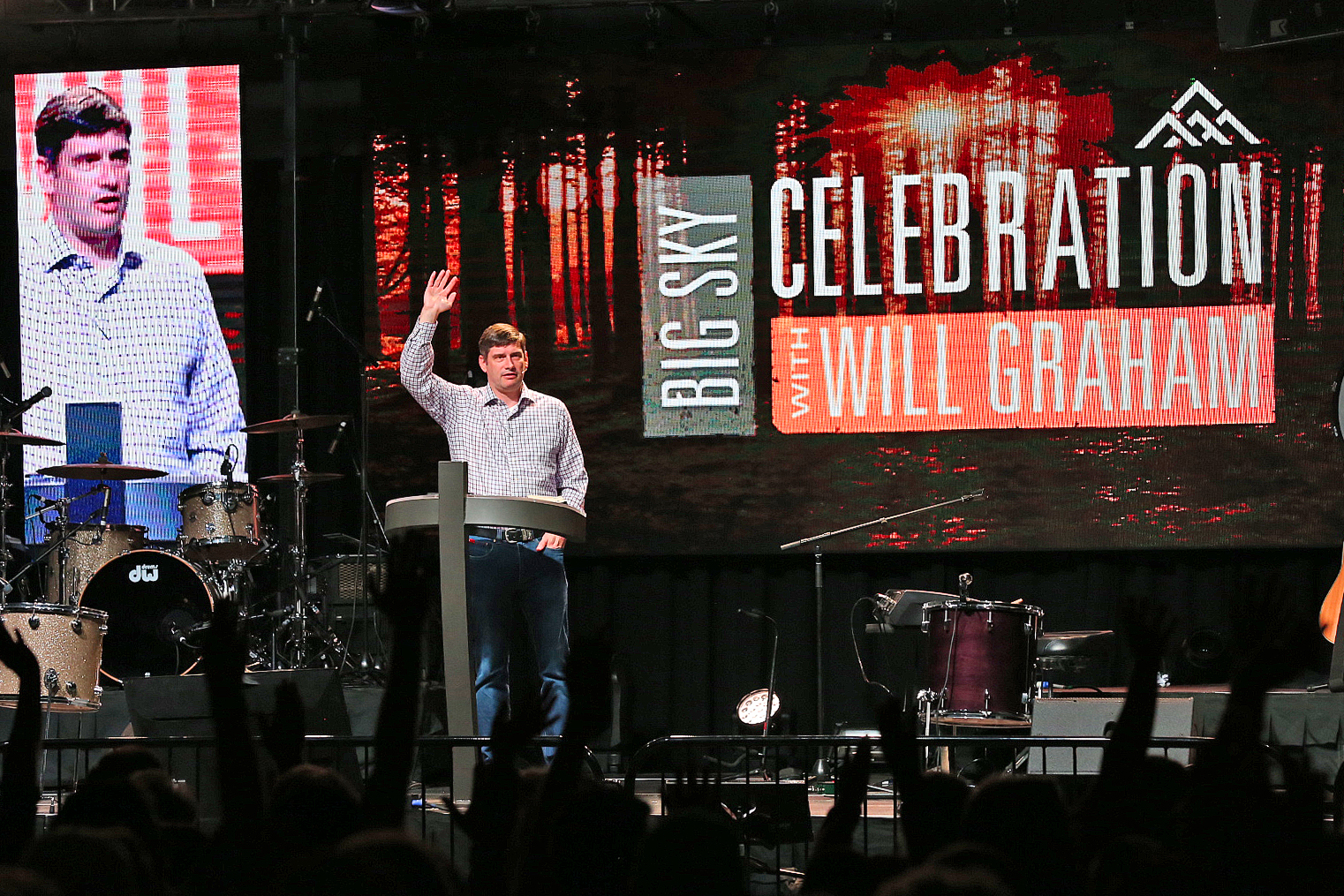 For one man in the audience, Jesus is the source of peace he was looking for. As a former soldier suffering from PTSD, he responded to Graham's invitation Saturday night to put everything in Christ's hands and rededicate his life to Him.
Stacey Clark stood with the man and his wife, who nestled under her husband's arm, smiling over her husband's decision, as Stacey and another counselor prayed with the couple.
"He was almost in tears," Stacey said of the husband. "I am just overjoyed to see him be that touched."
Stacey later discovered that she served in the Army Reserves with the man's brother.
"This was a God appointment," she said afterwards.
As the state capital, Helena has plenty of politics going on, Stacey said, and it can be a hard place to share your faith.
"It's easier to witness in a foreign country," she said, talking about her experience in Nicaragua. Here, she said, there's so much distracting people from God, and many don't want to hear about Him.
Which is why seeing people open their hearts to Christ at the Big Sky Celebration is such a welcome sight, she said.
Stacey's daughter, Gabby, said learning how to share her faith ahead of the Celebration has made her more courageous in doing so on her college campus. Like all counselors, 19-year-old Gabby went through the Billy Graham Evangelistic Association's Christian Life & Witness classes to become a counselor.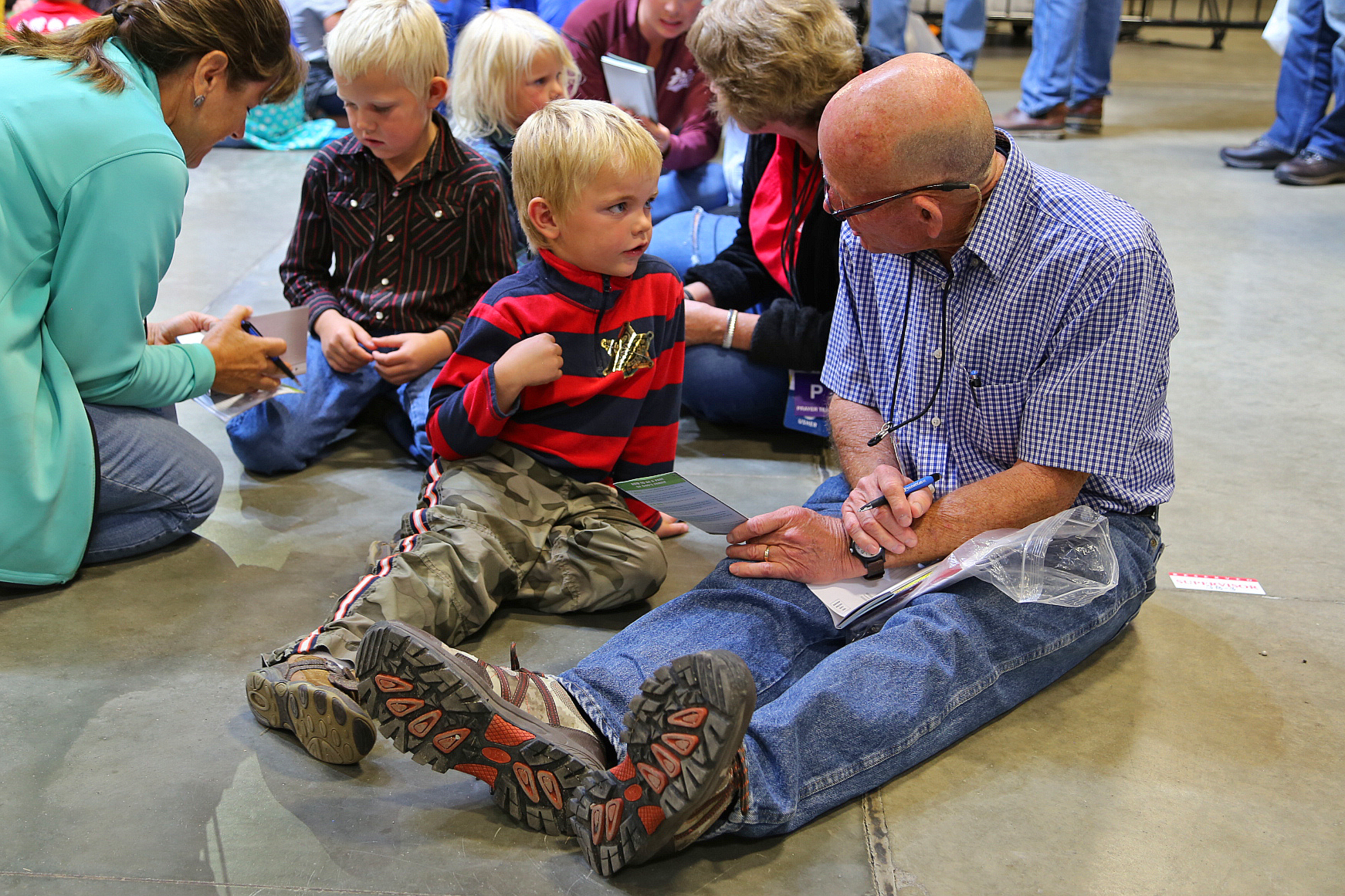 Since then, she's struck up conversation with a particular classmate who she was afraid to approach before.
And Saturday, she not only led an 8-year-old pastor's daughter to Jesus through the Celebration's KidzFest, but also helped a 16-year-old recommit her life to Jesus that evening.
It turns out, Gabby used to struggle with a lot of the same things the teen faces now.
"She felt like it was put on her heart to come down and confess some things she's dealing with," Gabby explained. "I think it's really encouraging to know she's not alone."
'No More Walking in Darkness'
Last Chance Gulch is now a downtown business district that helped Helena earn the nickname "Queen City of the Rockies." At night, the brown and green mountains disappear with the sun as city lights dot the streets.
Like those porch lights and street lights that pierce the darkness, Jesus Christ illuminates our lives, driving out the dark places and opening our eyes to a better way of living.
"No more walking in darkness. We have the light of the world," Aaron Shust sang Saturday night.
The Afters later led the crowd in singing "Light Up the Sky" as the crowd held up their cellphones, swaying them back and forth.
"With all these other religions, you have to do something. But with Jesus, He's giving you something," Graham said—the gift of a second chance, of a new life.
"Jesus is looking for you."
How will you respond to Jesus?