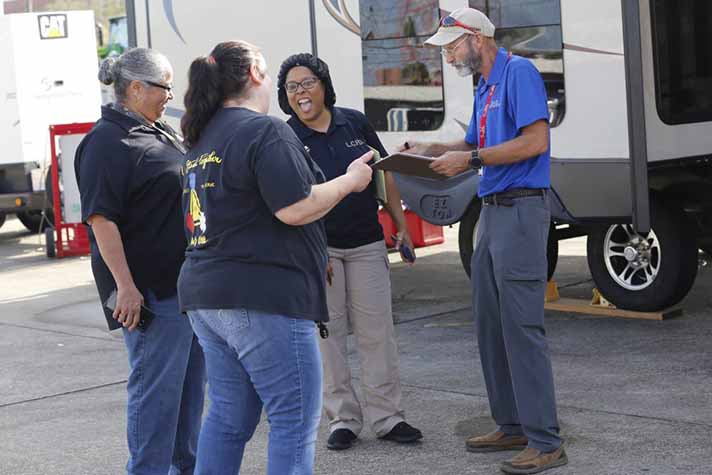 The phone was ringing off the hook.
As a 911 operator, Joselyn Addison fielded emergency calls while Hurricane Laura barreled through her hometown of Lake Charles, Louisiana.
"This was worse than Hurricane Rita," Addison shared, having faced that catastrophic storm back in 2005.
Numerous power lines blocked roads and old oak trees lay on houses between her workplace at Calcasieu Parish Communication and the parking lot of First Baptist Church, where the Billy Graham Rapid Response Team (RRT) was temporarily stationed alongside Samaritan's Purse. Additional chaplains are ministering in the nearby cities of Jennings, DeRidder and DeQuincy.
Just as chaplains deploy to offer emotional and spiritual care, Addison found herself in similar shoes the night of the storm. She'd taken her fellow dispatchers—especially the younger ones who haven't endured hurricanes—under her wing.
"I tried to minister to them," she explained, noting those with small children seemed the most worried. "I prayed with them. I myself was really scared, but I wanted to be strong—to be their mentor."
Although it'd been more than 48 hours since the hurricane, Addison still hadn't made it home due to continual shifts and taking care of others. Her family told her their home was severely damaged—the 150 mph winds caused the shingles to fly off, allowing rain to seep inside.
"I said to my mom, 'We're going to make this, we have each other's back,'" Addison declared. "I love to live here. It's family. We're family."
In the parking lot, Billy Graham chaplain coordinators Kenny and Sharon Folsom handed Addison a Samaritan's Purse work order, a form to fill out so volunteers could help with cleanup at her home.
While in conversation, Addison revealed she'd lost much more than just belongings the last few days.
Four close family friends survived Laura's deadly winds and storm surge, but died due to carbon monoxide poisoning from the generator they'd been using. According to news reports, at least 20 people died in Texas and Louisiana due to the storm, but almost half lost their lives from the unsafe use of generators.
Yet, even in Addison's shock and grief, she spoke highly of the One who's in control.
"[God] wants us to get closer to Him," she said, relating all the hardships of the year as opportunities to turn to the Lord.
She and a fellow co-worker shared their faith with the Folsoms, who are familiar with the high stress of emergencies from serving on their fire department squad in Loxley, Alabama.
"Worry and fear go hand-in-hand," Sharon said. "Worry is fearing what may happen but probably won't. Faith in Christ grounds [people] when [they] are dealing with some of the worst moments of their life."
Thinking of the two emergency services workers, she was inspired.
"Both of them talked about their faith and how the Lord got them through [the hurricane] without any great fear—and how they wished people could understand that," Sharon said. "It was reaffirming for us—sometimes we need reaffirming, too. It was good to see people's faith."
Chaplain's Faith Put to the Test
Earlier that day with Samaritan's Purse staff, Sharon shared how her own faith had recently been challenged.
"Along with everything that has gone on in 2020, I had an event that I thought was going to be catastrophic in my life," Sharon said, explaining that she'd been diagnosed with five tumors—and doctors expected her to have brain cancer.
Reading from Scripture, she shared Philippians 4:4-7: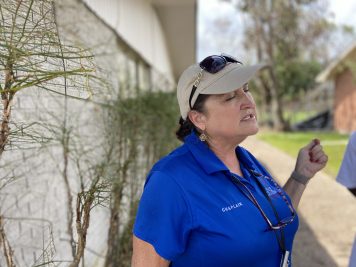 "Rejoice in the Lord always; again I will say, rejoice. Let your reasonableness be known to everyone. The Lord is at hand; do not be anxious about anything, but in everything by prayer and supplication with thanksgiving let your requests be made known to God. And the peace of God, which surpasses all understanding, will guard your hearts and your minds in Christ Jesus."
She assured those around her that she's been cleared and is now fine. Throughout the doctor's appointments, she never lost that peace.
"Everything that happens may not be good, but God can use it for good," she added.
In turn, she said, "I'm not going to let Satan steal my peace. I'm going to cling to this Scripture, His Word. When it talks about having the armor of God, we have one offensive weapon—everything else is defensive—but our one offensive weapon is the Word.
"Arm yourself with the Word. Then, when Satan starts throwing the coronavirus … natural disasters … concerns in our personal lives, we fight him back—just like Jesus did—with the Word. So I challenge you today, let the anxiousness go, even when Satan [causes] a stumbling block. Let the world see our peace."