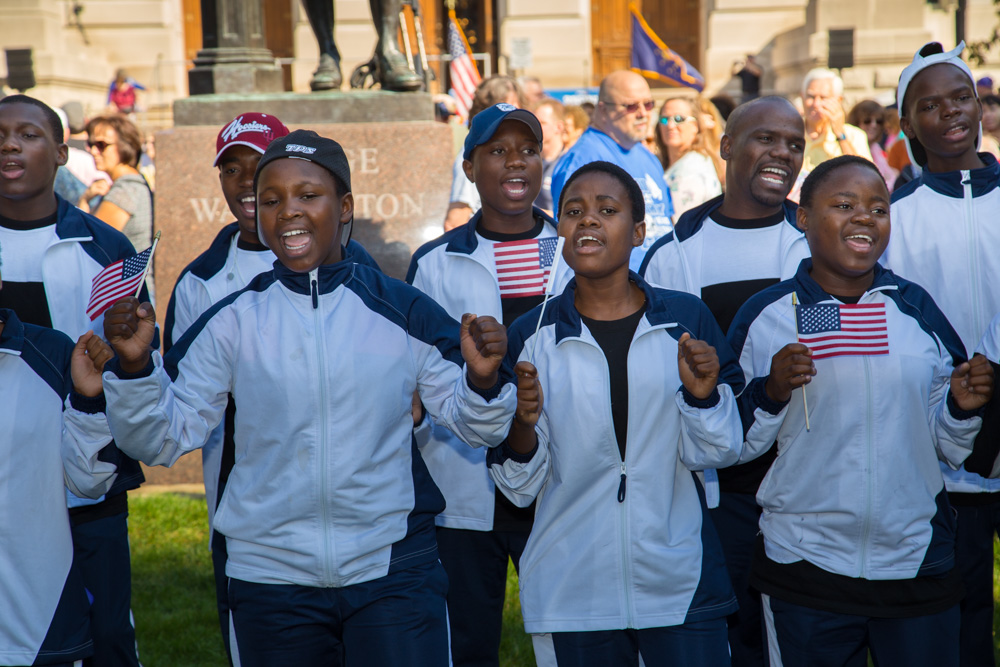 Jill Penrose from Fort Wayne, Indiana, stood out among the Midwesterners gathered for the 46th Decision America Tour prayer rally at Indiana's State Capitol on Wednesday.
But after you got past the 66-year-old's pink hair, there was something else, something captivating.
"I'm full of joy, and it's all real," she explained confidently with a bright smile.
The source of Jill's joy—Almighty God—is the same answer Franklin Graham has been sharing with our troubled nation during his 50-state Decision America Tour. Since January, he has traveled to 46 state capitals sharing his heart for America.
"The only hope for this country is Almighty God. It's Almighty God and His Son, Jesus Christ," Franklin said, looking out over the estimated crowd of 8,400 people. Wednesday's gathering marked the second-largest prayer rally to date.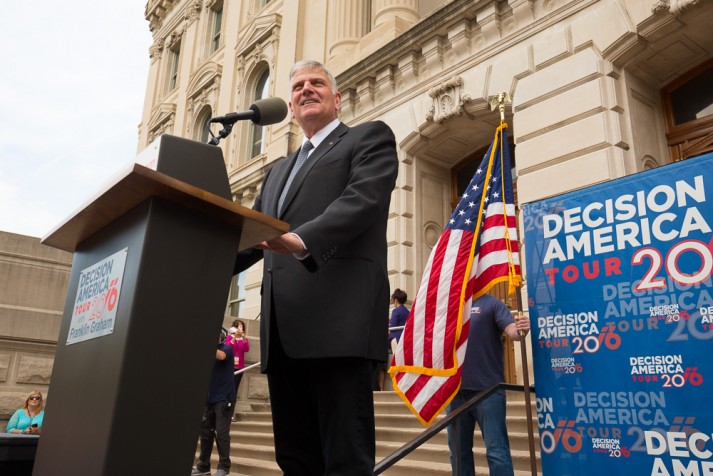 During the rally, Franklin talked a lot about our country's condition and what Christians need to do to help turn it around.
"Vote for candidates that have Biblical truth that are willing to stand for Biblical principles," he urged the crowd. "You're going to have to pray before you vote, but vote."
Jill and some of her church friends took a two-hour bus ride from Fort Wayne to pray for the country and to hear what Franklin Graham had to say.
"Franklin's trying to help us sort through the mess and ask everyone to pray about it and ask God—not the earthly things we read or hear or see," Jill said.
Her friend Henry McPherson agreed with Franklin that America needs to look to God and His Son, Jesus Christ.
"Jesus came to show us the way to live and we just kicked Him out," Henry said. "We've taken Jesus out of our lives, schools and politics.
"Until we come back to Christ wholeheartedly, we'll always be in trouble. It's not that hard for the country to turn around and come back to the Father. People don't realize how happy and joyful they'll be if they just come to Jesus."
'I Got Tired of the Life I Was Leading'
As she listened to Franklin talk about turning back to God, Jill remembered how her life was a mess until she turned it over to God six years ago.
Her life first started spiraling downward decades ago when her five-year-old son, Roger, died during open-heart surgery. Roger's dad had already died in a shooting and not long after, the boy's grandfather died, too. "I thought I was a jinx," Jill said.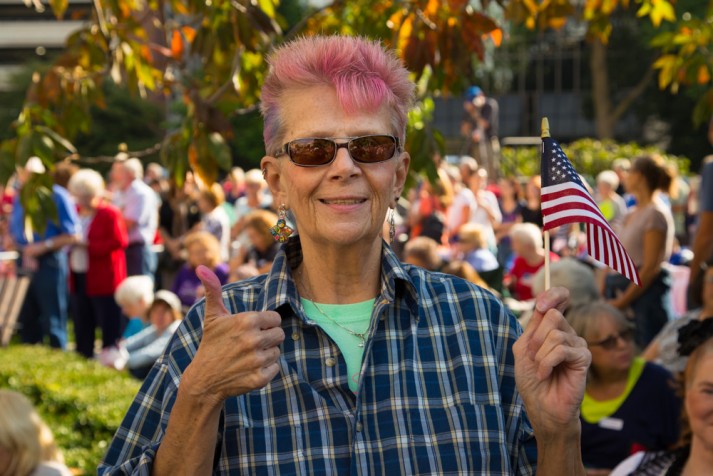 Jill says she tried everything to escape the pain of losing little Roger—booze, drugs, sex—and nearly died several times from all the substance abuse. She held it together on weekdays, though, and even drove a school bus for 20 years.
"I got tired of the life I was leading," she said, adding that when she looks back, "I can't even count how many times God saved me."
Jill used to be skeptical of Christians because she had seen some women who claimed to be Christian but acted otherwise. But there was one co-worker who seemed different—who didn't wear low-cut tops, wasn't flirty and didn't tell dirty jokes.
Jill started going to church with her. A few months later, Jill accepted Jesus Christ as her personal Savior and was baptized.
On many days, Jill is out on the streets of Fort Wayne—hanging out in convenience stores, neighborhoods, anywhere there are hurting people who need the hope of Jesus.
"You can talk to anyone if your hair's this color," said Jill, who also is involved in a grassroots revival movement. "It's a great opener with young people. … They don't think you're some stodgy old person. They think you're cool, hip.
"We get to talking and that'll lead to Jesus."
A Rainbow in the Blue Sky
At the end of the rally, after Franklin had shared the Gospel, some people started pointing to the sky. A small rainbow could be seen smack in the middle of sunny blue skies that held no hint of rain.
The Bible says in Luke 15:10: "I tell you, there is joy before the angels of God over one sinner who repents."
Linda Mattern from Wabash, Indiana, didn't think the rainbow was a coincidence: "God put it up there just for us today."