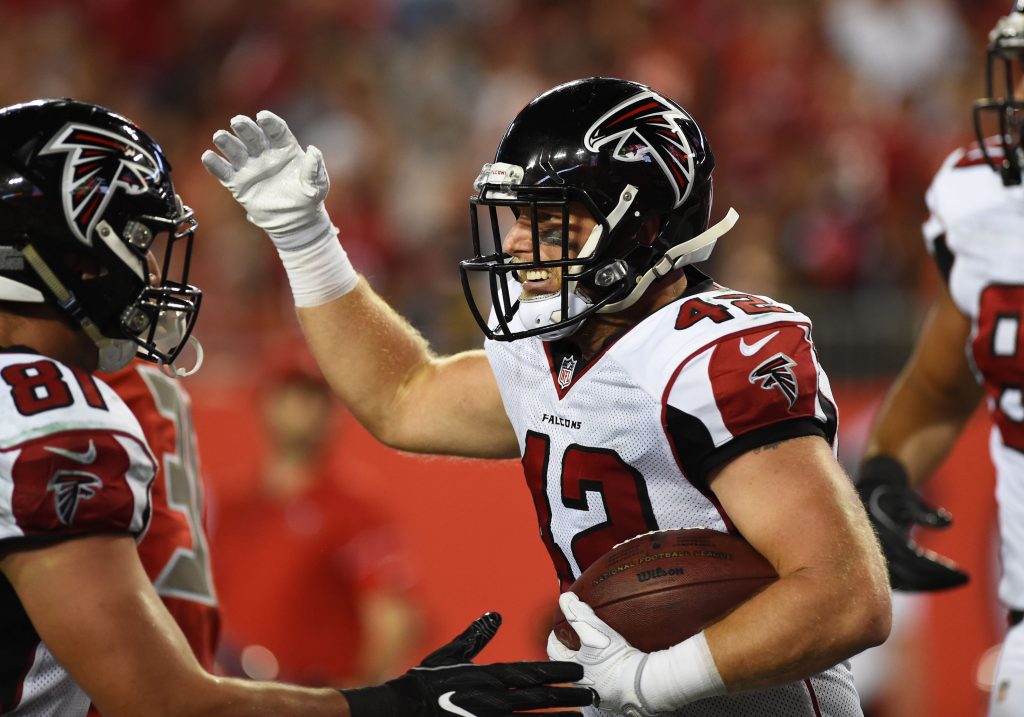 HOUSTON — Throughout this NFL season, Atlanta Falcons fullback Patrick DiMarco has received texts like this from the dear friend and Christian mentor who officiated his wedding in 2014: "Jesus is watching over you. God's got your back."
After the Falcons defeated the Green Bay Packers in the NFC championship game on Jan. 22, he received another: "Super proud of you. Super happy for you. See you in two weeks."
It's now two weeks later and the man who sent those texts, Jack Easterby, will be on the opposite sidelines serving in his role as the team chaplain for the Falcons' opponent on Sunday in Super Bowl LI, the New England Patriots.
"It's super exciting," DiMarco said. "I can't wait to see him. I'll give him a big hug."
Once the game commences, however, DiMarco will be doing his best to help the Falcons defeat the Patriots in his role as a lead blocker for Atlanta's dynamic running back tandem of Devonta Freeman and Tevin Coleman.
Freeman finished eighth in the NFL with 1,079 yards rushing this season, while Coleman was one of the league's top backups with 520 yards. They combined to run for 19 touchdowns.
DiMarco's role is decidedly low-profile. He hasn't had a rushing attempt all season, but caught a 31-yard pass in the NFC title game and had one touchdown reception during the regular season.
His job: mow down defenders to open running room for Freeman and Coleman.
"Pat has a lot to do with my success unselfishly," Freeman said. "He does a lot of the dirty work. A lot of times his name won't be called, but a lot of my success comes from his success."
It's a servanthood mentality DiMarco has been taught—for life and football—by Easterby, who was the team chaplain at the University of South Carolina when DiMarco played for the Gamecocks.
"He's been monumental in my walk with Christ," DiMarco said of Easterby.
DiMarco relied heavily on Easterby after a broken foot suffered in Aug. 2011 led to his release by the San Diego Chargers before what would have been his rookie NFL season.
"It was kind of a really dark time of my life," DiMarco said. "I thought I was never going to be able to play football again. But God blessed me and watched over me."
Easterby counseled DiMarco through the trial, and they both wound up the next season (2012) with the Kansas City Chiefs.
Now that they're with the Patriots and Falcons, respectively, they're opponents with a championship on the line.
"I think it's humbling to be in this position for both of us," Easterby said. "The value of friendship is way bigger than a football game. When I see 42 (DiMarco's jersey number) across the way when that national anthem is played, I will be genuinely happy for him and [wife] Kirstin and their family because of the kind of man he is.
"I'm just honored to be able to walk these kinds of roads because the heart fills up with love."
Easterby said they both endeavor to do their jobs for the glory of God.
"In all of life, we have to have a ranking system, priorities that give us a reset button that we get back to no matter where we are," said Easterby. "I'll be telling you something that's not true to say I'm not competitive or excited about this game, but it's not independently separated from my dependence on and love for Christ.
"I think all these opportunities have to do with rising up the Kingdom of God. He is using these things, even the biggest stage, for His glory and to draw all men to Himself. He will use the winner in some way, and He will use the loser in some way to honor Him. It's my conviction that we enter with the priority that we want to make Him known."
DiMarco emphatically concurs. His passion, far more than football, is to share the Gospel through his words and actions.
"Jesus paid it all on the cross," he said. "I like to tell people there's nothing we can do that's going to change His love for us."