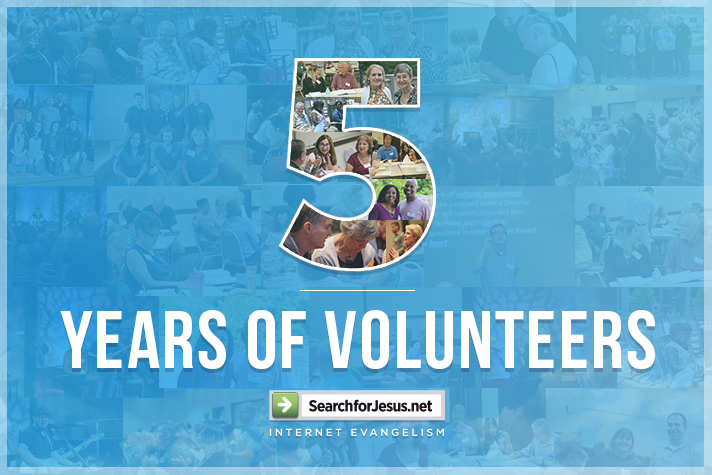 "I'm sure you don't know how much this has actually helped me," one Pennsylvania man wrote.
"Thank you so much for your kind words," wrote a woman in Limerick, Ireland.
"I loved how you answered my questions, how you are praying for me," a young woman from Rwanda said.
When BGEA's Internet evangelism ministry, Search for Jesus, launched in 2011, the goal wasn't just to create websites where people around the world could experience the Gospel, but to offer them a personal connection—real people who could give spiritual guidance in their time of need.
A year later, on May 4, 2012, Search for Jesus (SFJ) brought on its first volunteer to do just that.
Of course, one volunteer against a planet of people can only do so much. SFJ continued to expand, and in the past five years, has grown to over 500 English volunteers and over 40 Spanish volunteers spanning the U.S., Canada and Mexico.
They're all ages—from 19 to 90-something. They're teachers, businessmen and women, stay-at-home moms, pastors and everything in between.
That first volunteer, Mollie Magee, is now an area coordinator with the ministry, overseeing a group of volunteers in her area.
Take a look at how the SFJ team has grown over the past 5 years:
Since SFJ launched, over 50 million people have visited its evangelistic website, PeaceWithGod.net, either in English or in Spanish (PazConDios.net). More than 9.7 million of them have indicated decisions for Christ, with thousands of those passing on contact information for follow-up.
Each person reached through SFJ has an opportunity to connect one on one with a trained volunteer—either through live chat, email or a free online discipleship course called Know Jesus. Volunteers are there to offer spiritual guidance, encouragement, prayer and above all, point people to the hope found in Jesus Christ.
It's a hope that each volunteer has already experienced for him or herself—and something they are more than happy to pass on.
"I serve [as a volunteer] because I love Jesus and I'm grateful for the new beginning given to me," said Marisol de la Rosa, a discipleship coach from Puerto Rico.
Like Marisol, every person who has joined the SFJ team is cause for celebration. Volunteers go through comprehensive training, must have positive feedback from references and dedicate at least a couple of hours a week to the ministry.
It's not always easy work, but it's Kingdom work, and as many volunteers will tell you, they've been called to it.
"Search for Jesus has blessed my life by allowing me to share the love of Christ with others in divine appointments that God had prepared for me beforehand," Spanish volunteer chat coach Laura Nicli said.
Want to know why other volunteers serve? Take a look: