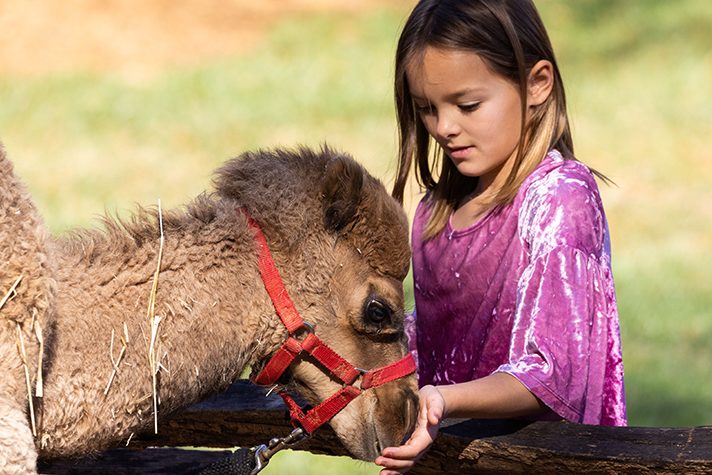 Craving peace and simplicity this holiday season?
Refresh your soul and reflect on the true meaning of Christmas at the Billy Graham Library in Charlotte, North Carolina.
Christmas at the Library is a free, family friendly celebration of Jesus' birth. Whether you're a Christian or not, find peace in the simple things in a season that can feel like a blur. Here are just five reasons to visit, now through December 23.
1. Carriage Rides
Snuggle under a cozy blanket* in a horse-drawn carriage, slowly meandering through sparkling Christmas lights with family or friends.
Sound dreamy?
This is a snapshot of the peaceful ambience you'll experience as you take a carriage ride around the Billy Graham Library grounds and the Billy Graham Evangelistic Association headquarters.
*Blankets are not provided, but you may bring your own. They are also available for purchase at Ruth's Attic bookstore.
>>Make your reservations and get more info here.
2. A Baby Camel
Pockets is his name, and he's three months old. Come see him and Tux, a llama; Bell, a donkey; and Lilly, a goat at the live nativity. There are other critters, too.
Want to pet Pockets or take a photo with him or other animals? Visit the live nativity between 11 a.m. to 1 p.m., Monday through Saturday.
3. Inescapable Christmas Spirit
Stop and listen. You might hear strands of "Joy to the World" or "O Holy Night."
Grab a cinnamon roll and hot cider, and enjoy traditional Christmas songs sung by carolers. In the spirit of gift-giving to celebrate Christmas, find inspirational presents or a little something for yourself at Ruth's Attic bookstore.
4. Mother Graham's Poundcake
Butter, sugar, cream. This poundcake recipe from Billy Graham's mother, Morrow Graham, is sure to fulfill your sweet tooth.
5. Story Time
Bring your kids to our covered, heated patio and listen to Christmas stories. Story time begins every 30 minutes, starting at 5 p.m.
Plan Your Visit
Experience Christmas at the Library activities Monday through Thursday from 5-9 p.m. and Friday–Saturday from 5-10 p.m. The Library is closed on Sundays.
Library staff encourage visitors to register for a time slot for their visit. The Library began accepting reservations during last year's COVID-19 safety measures and that practice continues this year, offering a more enjoyable guest experience. If a guest shows up for Christmas at the Library without a reservation, they will not be turned away but will have to register onsite and may have a longer wait.