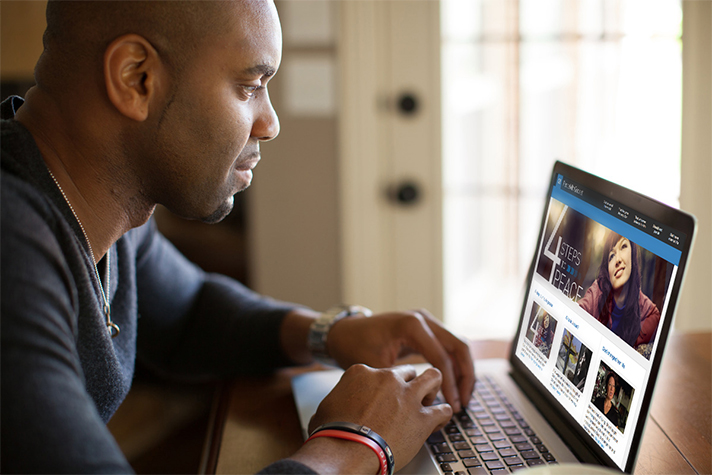 People who will never meet in person are making a spiritual connection online through BGEA's Internet evangelism ministry, Search for Jesus. Through this outreach, trained volunteers are ministering to people around the world who need hope. Many of them find the ministry through BGEA's evangelistic website, PeaceWithGod.net, which explains the Gospel and gives people a chance to respond. Online visitors also have the opportunity to chat live with a volunteer or submit a spiritual question. Some begin a free online discipleship course called Know Jesus.
Here are 5 stories about how God is using this ministry to make an impact:
1. Longtime Churchgoer Gives Her Life to Christ
"I believe that Jesus is who the Bible says He is. He is exactly the Son of God. I want my sins forgiven." Kendall connected with Jennifer, a trained SFJ chat coach, while watching BGEA's Greater Birmingham Festival of Hope online. She was touched by the Gospel message from Franklin Graham and, when he invited people at the live event to pray for God's forgiveness, she was on the other end of the live web stream, doing the same. "I prayed along with Franklin," she told Jennifer. "I want to live for (God) and not for myself." The woman had attended church for a long time, but did so "as a hypocrite," she said, and didn't have a relationship with Christ. Jennifer encouraged her to keep going to church and reading the Bible, which Kendall said she would do. "Tonight's a new beginning for you," the coach told her.
2. Dreams of Jesus
One man left this comment on PeaceWithGod.net early this summer: "I'm from Afghanistan and I am Muslim. During the last two years I dream that Jesus invited me to his way and tells me, 'Take my hand day by day.' I am interested in Jesus." An email coach responded and told the man about Jesus, then invited any questions he might have.
3. Woman in Affair Finds Forgiveness, a New Start
Bianca went online and typed "Lord help me." That's how she found PeaceWithGod.net. "I need God more than ever and for Him to please guide my feet," she wrote to Rhonda, a chat coach. "I have never felt so misguided." Bianca admitted an adulterous relationship she'd been in for three years, but said she wants God's will in her life. Rhonda prayed for God to lead Bianca out of the extramarital affair and offered some Bible verses on God's love, forgiveness and guidance. She also asked Bianca to write down Proverbs 3:5-6 and keep it handy. "God bless you for listening and understanding me and not [being] judgmental of me," Bianca wrote. "I needed to hear and read this. It makes me feel better and hopeful."
*Name changed to protect privacy
4. Muslim Woman Wants to Be Saved
One chat coach, Denise, was excited to share an online chat she had this summer: "I had an amazing chat today from a woman named Aaliyah* from Tunisia," Denise wrote. "It was a salvation commitment from Islam. … We had about a 30-minute chat. … She came to the website looking [for] how to get saved after watching The JESUS Film. I just walked her through it, but it truly was an amazing experience that I will never forget."
*Name changed to protect privacy
5. Suicidal Teen Discovers God's Grace
"I want to be a Christian but I'm afraid to tell my parents." That's a comment from a young teenager who connected with a SFJ volunteer online. The teen wrote that he had failed God and was so discouraged that he attempted suicide. The volunteer explained in simple terms that there's nothing we can do to be good enough for God, but that it's by grace through faith that we are made right with God through a relationship with Christ. "Oh, I didn't know that," the young man wrote. "It makes sense now." The volunteer then led him in a prayer of repentance. He said he would tell his parents about becoming a Christian later that week, on his birthday, and that he wants them to be Christians, too.