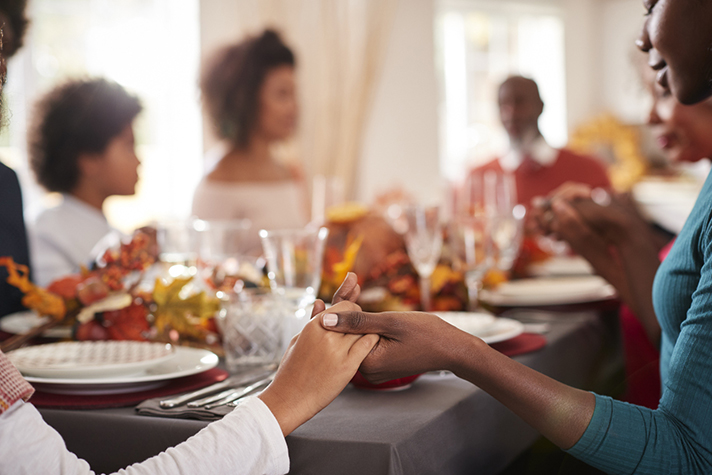 It's that time of year again: Thanksgiving. Time for family, football and pumpkin pie. But what if the very thought of the holiday makes you anxious? What if giving thanks gives you a headache?
Here are 5 reasons you might dread Thanksgiving—then scroll down to see what you can do about it.
Family drama. This isn't one of those commercials where smiling families pass dinner rolls across a neatly adorned table. You're just trying to scarf down your food so you can get out of there.
>> How can we keep the peace among relatives? Read Billy Graham's response.
All the work falls on you. You're the one carrying Lysol in one hand and a turkey baster in the other. (Just don't get the two mixed up.) You're in a tizzy by the time the doorbell rings.
>> "Preparing for Thanksgiving is a real burden." Read these short suggestions.
Travel takes time and money. Maybe the family could come visit you for a change. OK, bad joke.
>> This time of year can be stressful. These 10 Billy Graham quotes can help you get in the right mindset.
You're at work. Thanksgiving is just another day—maybe busier. Can't a person catch a break?
>> "How can I look on the bright side and be an encouragement to others?" Here's some guidance.
What do you have to be thankful for? It's been a tough year, and you don't feel like pretending to be happy. Even the word "Thanksgiving" leaves you grumbling over your mashed potatoes.
>> "I don't have much to be thankful for this year." Read Billy Graham's response.
The good news: it doesn't have to be like this. Here are 5 ways to make Thanksgiving better this year—along with some Biblical encouragement.
1. Seeing family can be a good thing. It shows you care. Bless others by being a good listener and encourager. Reconnect with ones you don't see regularly.
"Let no corrupting talk come out of your mouths, but only such as is good for building up, as fits the occasion, that it may give grace to those who hear."
—Ephesians 4:29
2. Thanksgiving prep is no small task. Make a list of what you need to do and when. If you can bake or freeze anything ahead of time, do it. Ask family and friends to help you, and if that's a no go, opt for a smaller meal.
"You and the people with you will certainly wear yourselves out, for the thing is too heavy for you. You are not able to do it alone."
—Exodus 18:18
3. Traveling can be stressful. Set aside time to be alone and stick to it. Enjoy these moments of calm, and ask God to keep you from getting upset if things don't go as planned.
"For God alone, O my soul, wait in silence, for my hope is from him. He only is my rock and my salvation, my fortress; I shall not be shaken."
—Psalm 62:5-6 
4. Maybe you're stuck working on Thanksgiving, but you can still face the day with a positive attitude. Look for ways to uplift people around you. Tell co-workers what you appreciate about them, or bring in some homemade goodies.
"So then let us pursue what makes for peace and for mutual upbuilding."
—Romans 14:19
5. Problems are real, and you don't have to pretend they aren't. But don't let problems block out everything else in your life. What can you be thankful for? Your health? Your family? Your home? How about small things you might take for granted? Make a list.
"Give thanks in all circumstances; for this is the will of God in Christ Jesus for you."
—1 Thessalonians 5:18
Here's one more challenge for you: this holiday, discover an even greater reason to be thankful. That reason is the freedom found in Jesus Christ. With Christ, we have hope and guidance, not just on Thanksgiving, but every day.