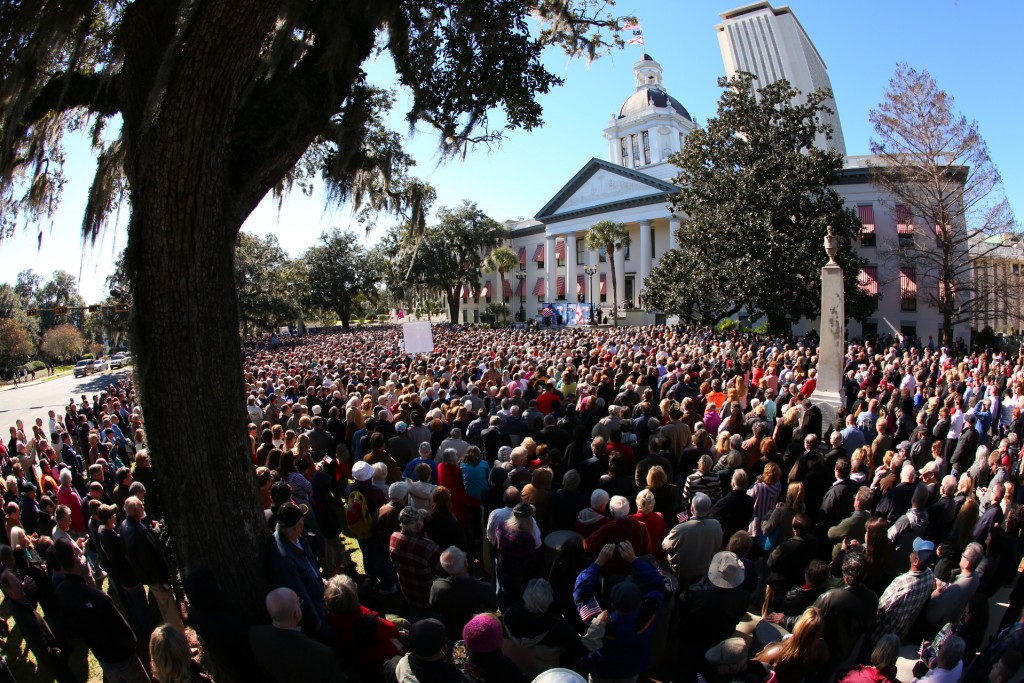 They came by bus. By car. By SUV.
They caravanned with people from church. From their community. From their Sunday school class.
Some left home at 7:30 a.m.; others at 5:30 a.m.
But they all converged on the lawn in front of the Tallahassee (Florida) State House during the lunch hour on Tuesday to hear one passionate message from Franklin Graham:
"Let's take this nation back!" he said.
Stop No. 2 on the Decision America Tour drew an even larger crowd than the kickoff in Des Moines, Iowa, as an estimated 3,500 people of all ages and backgrounds gathered to hear one man's heart. And to take a stand for God and America.
"This is awesome," Tallahassee resident Becky Soto said. "It's to the point, and it's what everybody needs to hear."
"Franklin Graham is an anointed person. And I think this will be the start of something big."
With the crowd shoe-horned all the way to Monroe Street on Tuesday, the idea behind the Decision America Tour is clearly resonating.
The days of Christians being quiet are over.
"Our nation is in trouble," Franklin Graham started the Tallahassee prayer rally. "And there's not one political party that can fix it.
"Our only hope is in the Almighty God."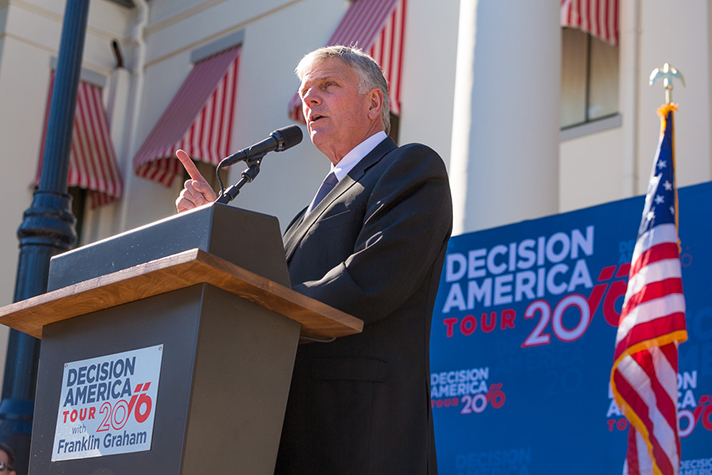 Six women from Williston, Florida, drove 200 miles to hear Franklin Graham share his heart, only to meet a pastor from Bronson—a one stop light kind of town near Williston—who brought 20 people from his church.
"Why didn't we do this 30 years ago?" asked Kandrice Anderson, one of the six ladies who drove to Tallahassee in a Chevy Suburban.
"We need to pray for our nation and take our country back," friend Michelle Traylor said, clutching a "Pray for Our Nation, II Chronicles 7:14" sign from the rally. "I'm going to put this sign up in my front yard."
For some, the call to repent, both as a nation and individuals, struck a chord; for others it was a call to action—to vote and rally family and friends to do the same. For Traylor, it was the encouragement to start community prayer groups and to stand behind candidates who will take a stand for biblical truth.
"We have a Christian mayor," she said, "and without question it makes a difference."
True to form, Franklin Graham didn't waste an opportunity Tuesday to share the Gospel message, and anyone within earshot could not have left the rally unaware of the Good News.
"I've got a question for you," he said. "Are your sins forgiven?"
Franklin Graham didn't stop there, eventually leading anyone who wanted to accept Christ into their lives in a prayer of salvation.
"God sent His Son Jesus Christ to this earth on a rescue mission to save us from our sins."
One church from Clearwater drove four hours to bring a dozen members to the rally. A Sunday school class from Tampa organized 15 to come, praying in a circle on the edge of the lawn as the equipment was being packed up and loaded on the bus headed to Baton Rouge, Louisiana, the site of tomorrow's noon (CST) Decision America Tour rally.
"I was hoping Franklin would come out and get right to it, and that's exactly what he did," said David Keyser, part of the Tampa Sunday school class.
One slight distraction was an ambulance that sped by two-thirds of the way through the event. Franklin Graham paused from the speech to say a quick word of prayer for whoever the ambulance was being sent for.
"I really liked when he stopped what he was doing to pray when the ambulance went by," David's wife, Dianna Keyser said.
With only a few scattered folks still on the lawn after the close of the event, Tallahassee's David Jones had his head buried in his flip phone, finishing up his text to pledge to God and America. Jones is now one of more than 35,000 to have signed the pledge.
"It's amazing how America has really pushed God away and gotten caught up in foolish stuff," said Jones, wearing a Florida State hat. "I've gotta call Mom and tell her about it."