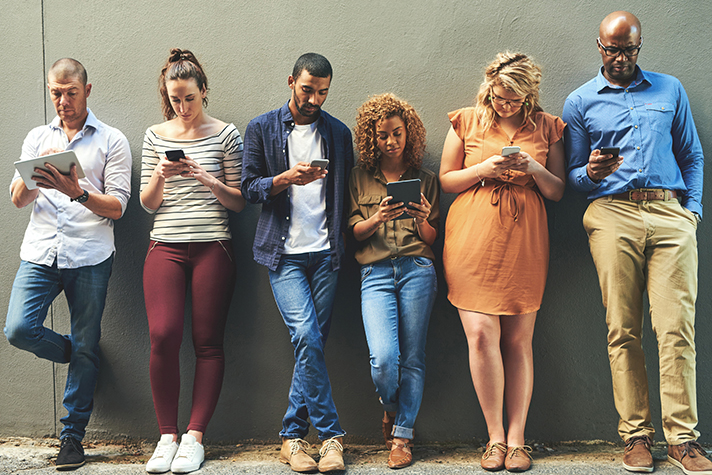 It's been 50 years since the first internet transmission took place. Back then, UCLA professor Leonard Kleinrock and his student were only able to send the letters "lo" from one computer to another before the system crashed—three letters short of their intended word: login.
But never despise small beginnings.
Today, the internet can be accessed faster than ever by more than 4.3 billion users around the world. This means ample opportunity to stay connected and share ideas—but sometimes, too much opportunity.
Though the internet isn't all bad, realities like adult content, cyberbullying and hate speech are increasing. Mindless scrolling can also get in the way of productivity.
But, as the Billy Graham Evangelistic Association has found through its social media accounts and internet evangelism ministry Search for Jesus, many people are looking online for answers to some of life's toughest questions—including why they were created and questions about God and heaven.
That's why it's important to be a light for Christ despite toxic behavior that often goes along with online conversations.
Here are 3 ways to make a difference when online behavior goes bad:
1. Be Uplifting
Much of today's internet use is spent on social media sites like Facebook. These popular platforms give us a way to feel connected despite being apart—and they're driven by the desire for community. People want to feel their family and friends—even strangers—care.
So when you see someone sharing a struggle online, say something. Comment with a prayer or encouraging Bible verses. Consider sending a private message, especially if you can relate to what he or she is going through. Or if you have a personal connection, give the person a call. You never know how these simple gestures could inspire someone. And you can always share helpful resources that point to God if you don't quite know what to say.
These tips also apply when a person shares good news. Don't be afraid to publicly celebrate someone's success, whether you're close or not. This can present a great opportunity to talk about God's love and provision.
2. Turn the Other Cheek
Have you ever found yourself verbally attacked online? Because of the perceived anonymity of the internet, many people are more outspoken or confrontational than they would be in person. First, do a heart check and make sure this isn't you.
Billy Graham's Online School of Evangelism
Learn to reach others for Christ using time-tested techniques, no matter your profession.
If you witness an online bully or "troll" (someone lurking only to stir up trouble), pause and consider whether it's worth a response. Oftentimes, it's better to ignore these distractions, or respond in love rather than retaliate.
Romans 12:17 (NASB) says, "Never pay back evil for evil to anyone." Whether it's devastating news or tragedy you read about on the internet or a random online encounter with someone on a mission to be hurtful, God can help us to remain calm and loving. Ask Him to transform your heart so this is your first instinct over anger or hate.
3. Counter Lies with God's Truth 
"Don't believe everything you read on the internet." This quote has been jokingly attributed to Abraham Lincoln. It's true, there are many lies floating around online, and some of them are about God, His Word and what faith in Christ means.
As tempting as it may be to remain quiet, it's imperative you don't hide your faith in Christ—especially when your faith is being challenged. God calls us to be unashamed of the Gospel and gives us many tools to share His truth—including the internet. Trust that He'll guide you as you stand firm.
Through it all, remember God's sovereignty and that, even when it seems evil is winning online or elsewhere, Jesus already won the battle.
As Billy Graham once said, "Thank God for every tool He gives us to declare the life-changing message of Jesus Christ to a world that desperately needs Him. And pray that Satan's efforts will be seen for what they are, leading only to corruption and emptiness and death."