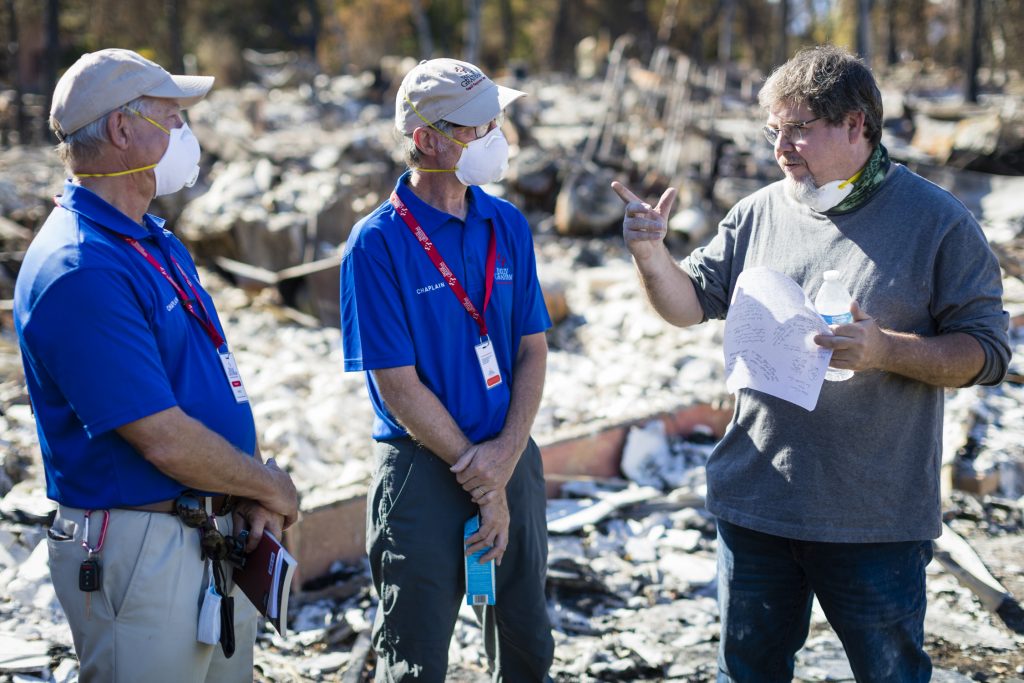 As the Billy Graham Rapid Response Team ministers in the aftermath of hurricanes and wildfires, crisis-trained chaplains have witnessed God restoring people's hearts and lives.
More than 100 chaplains have deployed since late August to offer emotional and spiritual care to those facing the effects of hurricanes Sally, Laura and Delta, and the West Coast wildfires.
Most times they simply offer a listening ear, yet often these conversations lead them to pray and share the hope of Christ. More than 7,000 prayers have been lifted up by Billy Graham chaplains in the past two months.
From the ashes of Oregon to the toppled trees in Louisiana, be encouraged through the following stories of how God has the power to bring life in the midst of devastation.
Rescued From the Flames
In Jackson County, Oregon, Billy Graham chaplains met Ashley*, one of thousands of residents who lost homes in the West Coast fires that have killed more than 30 people and overtaken millions of acres.
Leaving work, the elementary school teacher heard about a fire posing danger close by. She rushed home to rescue her three dogs, but was repeatedly halted and redirected by roadblocks. When Ashley finally pulled in her driveway, she found flaming trees torching her porch. Still, she franticly ran inside to grab her frightened dogs, escaping just in time.
Standing in the ashes of her home, Ashley admitted to chaplains that she'd never been a churchgoer, and accepted all religions as ways to know God. The chaplains showed her a "Steps to Peace With God" booklet while saying there's only one God—and she could come to know Him through the death and resurrection of His Son, Jesus Christ.
After chaplains explained what certain Scriptures in the booklet meant, Ashley believed and tearily prayed to have Christ become her Savior.
'My Husband Wants a Divorce'
When natural disasters occur, Billy Graham chaplains often find there was "a storm" in residents' lives before the actual storm. That was the case for Andrea*, a homeowner they met in DeRidder, Louisiana—1 of 4 deployment sites set up following Hurricane Laura.
The struggling wife told chaplains, "My husband wants a divorce." Andrea broke down, and the chaplains stayed with her for several hours.
A few days later, the chaplains saw her again—but noticed her countenance had completely changed. Andrea showed them a Bible she received from Samaritan's Purse, a ministry that repaired her damaged home after the Category 4 storm. Her glasses were tucked inside as a bookmark to where she'd been reading. Andrea had told her husband she wanted a Bible-based marriage, and they agreed to read the Bible together each day to try and heal their relationship.
No Longer Leery of 'So-Called Christians'
Just a few weeks after Hurricane Laura slammed the Gulf Coast, another storm—Hurricane Sally—pummeled Alabama and the Florida Panhandle with high winds and heavy flooding. Partnering with Samaritan's Purse, the Rapid Response Team deployed to hard-hit Foley, Alabama.
There, some chaplains checked on Michael*, a homeowner who had been helped by Samaritan's Purse. The resident welcomed them and expressed his gratitude for the tree work that had been completed. Michael explained to the chaplains he had been wary of "so-called Christians" in the past. Although he had gone to church some as a child, Michael never felt the need for it as an adult. He just tried to live a good life.
The chaplains were able to share with him how he could have a relationship with God, and Michael decided to trust Jesus as his Savior and Lord.
*Name changed for privacy.