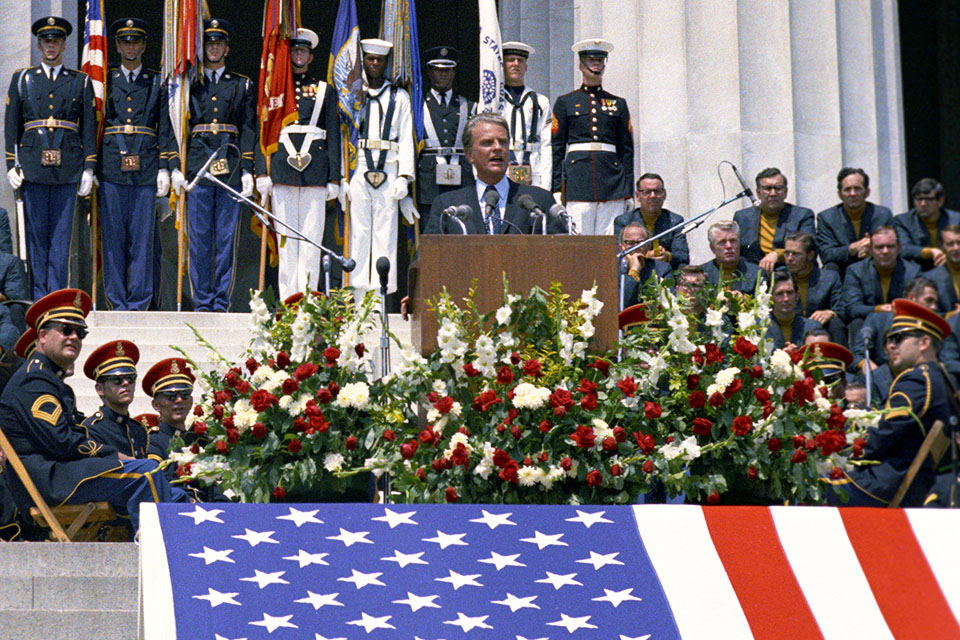 In many ways, Billy Graham belonged to the whole world. But "God's Ambassador" always had a special place in his heart for his home country, the United States, where he lived for all 99 years of his life.
As the U.S. celebrates Independence Day, these 10 quotes are a reminder of how much Mr. Graham loved his nation and desperately wanted to see his fellow Americans know the peace and love of God.
"The secret strength of a nation is found in the faith that abides in the hearts and homes of the country." —From Day by Day with Billy Graham
"We have stood tall in America in most areas, but on this Independence Day I call upon Americans to bend low before God and go to their knees as Washington and Lincoln called us to our knees many years ago. No nation is ever taller than when on its knees. I submit that we can best honor America by rededicating ourselves to God and the American dream." —From Billy Graham's message on July 4, 1970
"As long as we are on this earth, we possess dual citizenship. On one hand we owe allegiance to our nation and are called to be good citizens. But we are also citizens of the kingdom of God. Our supreme loyalty is to Him." —From The Journey
"I do not see how anyone could study the history of America without recognizing religious influences that have helped mold this nation from the beginning. In no other nation's founding documents can we find so many declarations of allegiance to God. Time after time in our history there have been appeals to the 'Supreme Judge' in seeking to build a new nation. This idea of freedom as a right of all men everywhere is unique among nations." —From Billy Graham's New Year's Eve message in 1975
"Our nation grew strong in an era when moral standards were emphasized, and it will grow weak when we condone that which we once condemned." —From Billy Graham in Quotes
"I believe that every problem facing us as Americans is basically a spiritual problem. Crime is a spiritual problem. Inflation is a spiritual problem. Corruption is a spiritual problem. Social injustice is a spiritual problem. The lack of will even to defend our freedoms is a spiritual problem." —1975

"It is right and proper to honor our country, to rejoice in her liberties and to sing her praise. But this can be abused when we make it a substitute for God. We honor America but we do not worship her." —1970
"I would challenge every deeply committed American who is qualified to think about running for political office. I do not believe that we as Christians should withdraw. We need men and women of integrity and Christian commitment who will run for political office." —1975
"Lord … remind us today that You have shown us what is good in what You require of us; to do justly, to love mercy and to walk humbly with our God. We ask that as a people, we may humble ourselves before You and seek Your will for our lives and for this great nation. Help us in our nation to work as never before to strengthen our families and to give our children hope and a moral foundation for the future. So may our desire be to serve You, and in so doing, serve one another." —From Billy Graham's prayer during the second inauguration of President Bill Clinton in 1997
"I believe America has gone a long way down the wrong road. If we ever needed God's help, it is now." —From Billy Graham: God's Ambassador
Go Deeper
Watch Billy Graham's message to the American people from July 4, 1970.
Read Billy Graham's classic 1975 message, "Will America Survive?"
Read about how the United States honored the life of Billy Graham after his death on Feb. 21.
Make Peace with God
Billy Graham spent his life urgently sharing the Good News of Jesus Christ with the U.S. and the world. See what's so important about the message he shared, and let God into your life right now.