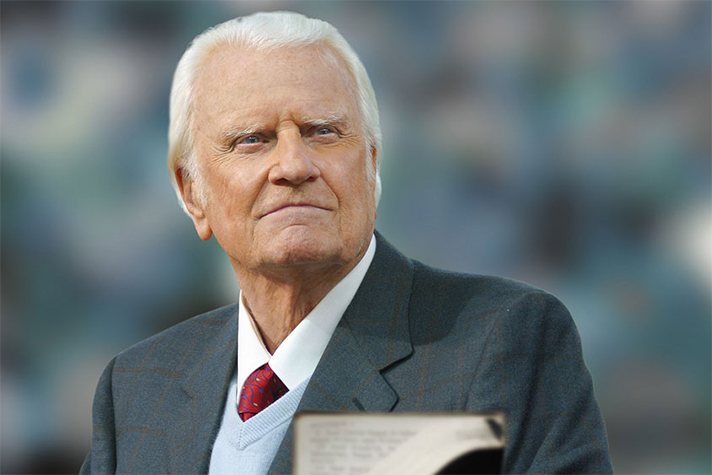 Since Billy Graham went to be with the Lord on Feb. 21, the Billy Graham Evangelistic Association has asked people to share how God used Mr. Graham to influence their lives. Below are 10 comments—out of tens of thousands—that show his lasting impact for Christ.
"As a young, confused golf pro I heard Billy Graham speak about 'living water' from my hotel room TV. Instead of a bottle, that night I reached for a Bible and read John 4 and more. That was a turning point in my life. I kept reading, and four months later Jesus changed me forever! I'll never forget." —Kurt
"In 1972 I had a gun to my head when I heard Mr. Graham say 'Jesus loves you!' on TV. I called the phone number and talked with a counselor, and God is still using me." —Sharon
>>Read Sharon's powerful story.
"Through his death on February 21st, I gave my life to Jesus and have been given the joy and peace that I've looked for for so long. He came to me through the Holy Spirit and since then I've been born again. Even in death, Billy Graham helped save a lost soul." —Jon
"My life changed forever when I watched Rev. Graham on television in 1974 as he led a Crusade. I knelt down at my couch with my 5-year-old daughter as we both received Jesus Christ as Lord and Savior of our lives." —Julie
"At a low point in my life I was selling insurance via inquiry cards. In a new batch of cards was the name Billy Graham. I didn't believe it. I called and made the appointment. Sure enough it was the inspirational Billy Graham I had admired on TV. Through God, Billy Graham righted my ship." —Don
"My little 10-year-old Josiah is weeping over the loss of this great man. 'He was the person I wrote down in class that I wanted to meet.' I said, 'You will meet him someday in Heaven.' He replied with tears, 'I'll have to wait a hundred years.' Thank you, Rev. Graham for your influence on my boy." —Holly
"My father was an unbeliever, but he had deep regard for Rev. Graham in that his messages were the ONLY preaching Dad allowed in the house. Those seeds planted resulted in my whole family's salvation and my surrendering to preach. We never met, but through him my whole family is in Heaven or on the way." —Dan
"Born in 1946, I was a little girl when I first saw Billy Graham on TV in the '50s. I was from a broken, violent and dysfunctional home. I was mesmerized by his eyes that seemed to me to be like the eyes of Jesus. I prayed for the first time that night and have been a believer since I was 8 years old." —Frances
"All of us at the Chevrolet automobile dealership where 45 of us work have been impacted by our owner, David Peterson, who committed his life to Christ at the 1963 Billy Graham Crusade in Philadelphia. He reads his Bible often." —Robert
"My life would have been a waste without Dr. Graham. I lived in a household of regret, anger, and bitterness. Through his newsletters to youth, sermons on television and personal letters I was able to come to Christ and receive salvation, and that has made the difference." —Brenda
Some comments have been edited for clarity.
Billy Graham spent his life telling the world how to have peace with God and eternal life through Jesus Christ. You can have the peace so many others have come to know. Start here.