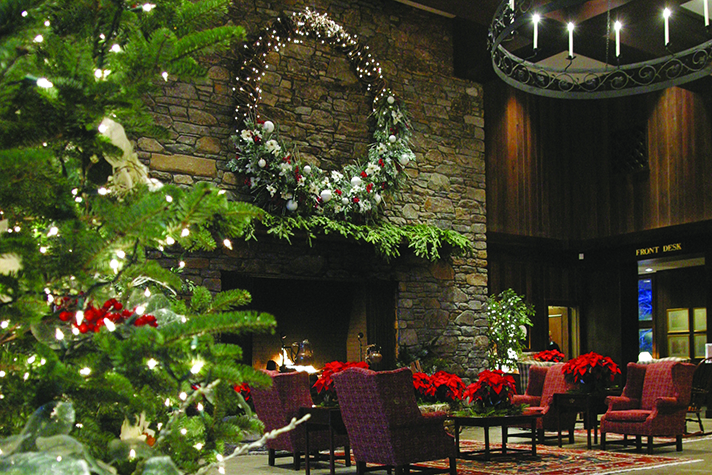 ASHEVILLE, N.C., Nov. 30, 2015—Each year, the Billy Graham Training Center at The Cove celebrates Christmas—the birth of Jesus Christ—through traditional worship concerts, festive holiday decorations and a beautiful display of the Crèche. This year is no different. The Cove is celebrating the Christmas season with a packed schedule of 12 holiday concerts and events from Dec. 3-19, several of which have already sold out. A few tickets remain for several events.
"Christmas is a special time of year. It's a time to celebrate the greatest gift ever given—the gift of God's Son," said Will Graham, vice president of the Billy Graham Evangelistic Association and executive director of The Cove. "This holiday season, we're helping our guests escape from the busyness of their lives and focus on the true meaning of Christmas."
Tickets remain for multiple Christmas concerts with contemporary artists: Veritas on Dec. 5; Tommy Coomes Band on Dec. 7; Travis Cottrell on Dec. 10; Marty Goetz with Misha Goetz on Dec. 18; and on Dec. 19, Huntley Brown's Excerpts of Handel's Messiah joined by the Mount Paran Singers from Mount Paran Church of God in Atlanta, Ga. Concerts include a buffet style meal, and overnight lodging options are available.
Throughout the month, there will be several SeniorSalt Carol Sings, designed specifically for seniors and consisting of a time of singing traditional Christmas carols, hearing an inspiring devotional message and enjoying a buffet meal. Due to popular demand, all of the SeniorSalt Carol Sings are sold out at this time.
The complete concert schedule is available at www.thecove.org. Call (800) 950-2092 for the latest information on availability and pricing for all Christmas at the Cove events.
In addition to the concerts, The Cove will host a special Women's Christmas Luncheon on Dec. 6. Tickets are $29 and include a meal along with a special inspirational message from award-winning speaker Casey Schutrop, author of Grandma's Christmas Legacy: The Testimony of the Tree. Seating is limited. For more information or to make reservations, call (800) 950-2092.
The Billy Graham Training Center at The Cove will also host a special traveling exhibit on display during the month of December. Messiah: Word Pictures by Timothy R. Botts, features calligraphic word pictures inspired by the music and text of George Frederick Handel's Messiah. Botts, whose work has been exhibited around the world including at the Washington National Cathedral and the Billy Graham Center Museum at Wheaton College, was afavorite artist of the late Ruth Bell Graham.
Guests are welcomed to visit the Chatlos Memorial Chapel, which is open daily Monday through Friday from 9 a.m. to 5 p.m., and Saturday from 9 a.m. to 1 p.m. Additionally, throughout December, The Cove will be adorned for the season with vibrant poinsettias, ornamented Christmas trees and a Nativity in its lobby. The Billy Graham Training Center at The Cove and Chatlos Memorial Chapel will be closed for the holidays on Dec. 23, 24, 25, 26 and 31.
About The Cove: Nestled in the scenic mountains of Asheville, N.C., the Billy Graham Training Center at The Cove offers guests a unique and serene experience for purposeful growth through Bible training; in-depth seminars; personal spiritual retreats; concerts; programs for seniors, women and church or ministry leaders; and many other inspirational events throughout the year.  The Cove is also available for group events for Christian churches and nonprofit ministries who are looking for a conference and retreat center. Facilities can accommodate small groups, such as board meetings and church staff retreats, as well as large groups up to 450 guests. For more information, call (800) 950-2092 or visit www.thecove.org. You can also connect with The Cove on these social media sites: Facebook, Twitter, Instagram, Pinterest and YouTube.
MEDIA CONTACT:

Lisa Moseley
(704) 401-2116
lmoseley@bgea.org