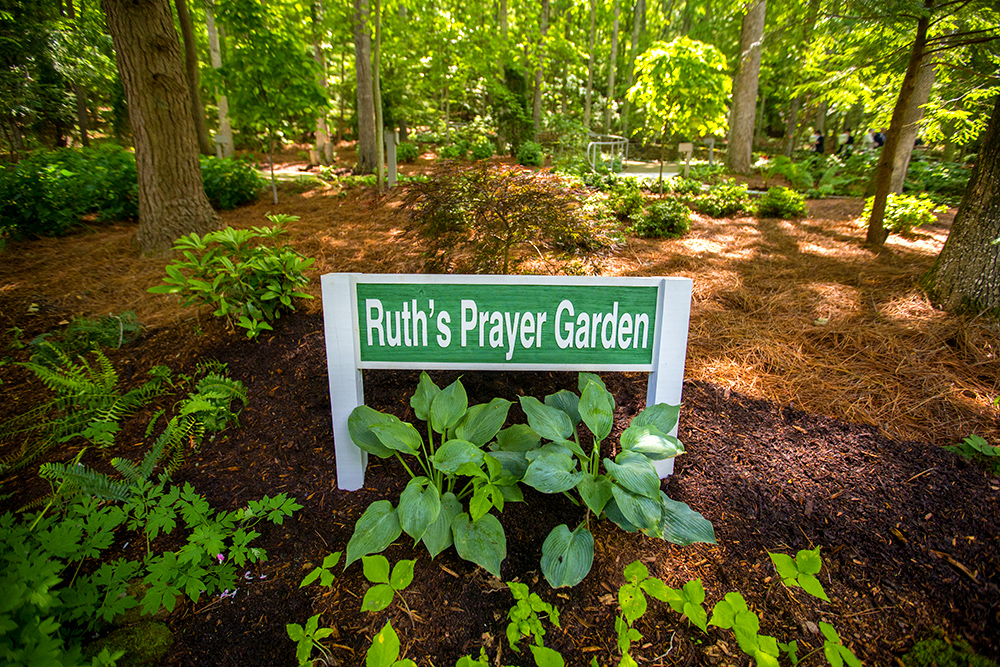 ASHEVILLE, N.C., June 3, 2016 — More than 170 invited guests, friends, family, and volunteers gathered Wednesday, June 1, as "Ruth's Prayer Garden" at The Billy Graham Training Center at The Cove (The Cove) outside of Asheville, N.C, was dedicated in a small ceremony marked with prayer, song and reflection.
Named for The Cove's co-founder and late wife of evangelist Billy Graham, Ruth Bell Graham was an avid gardener. From the jack-in-the-pulpits to gardenias, each flower and plant was selected to reflect the personal favorites of Ruth, many of which were part of her garden at the Graham home in the nearby mountains.
During his remarks at the dedication ceremony, Will Graham, vice president and executive director of The Cove, and grandson of Billy and Ruth Graham, recalled his grandmother's love of flowers that she inherited from her father. "Like The Cove itself, this garden is designed to be an extension of my grandparents' home at Montreat," said Will Graham. "My grandparents wanted this place to be known as a mountain of prayer. Our hope is that the prayer garden will provide another sanctuary of prayer for guests on this mountain for years to come."
Positioned on 1.5 acres amongst the tall oaks and short needle pine trees, and in the foreground of the Chatlos Memorial Chapel, Ruth's Prayer Garden is open to the public during The Cove's normal visitor hours. More than 80 species of garden plants consisting of various perennials and shrubs are included in the two tiers of the garden – the upper "Woodlands Garden" and lower "Chapel Walk." Some of the most prevalent species include: azaleas (17 varieties), roses (15 varieties), rhododendron and hydrangea (five varieties each).
"This garden is meant to provide a place of solitude and beauty for the purpose of personal reflection, prayer and worship," said Lucas Jack, horticulturist and supervisor of grounds maintenance at The Cove. "Our goal was not to overwhelm the visitor with a lavishly overdeveloped landscape, but to allow them to enjoy the experience and feel as if they are part of the landscape."
About The Cove:
Nestled in the scenic mountains of Asheville, N.C., the Billy Graham Training Center at The Cove offers guests a unique and serene experience for purposeful growth through Bible training; in-depth seminars; personal spiritual retreats; concerts; programs for seniors, women and church or ministry leaders; and many other inspirational events throughout the year. The Cove is also available for group events for Christian churches and nonprofit ministries who are looking for a conference and retreat center. Facilities can accommodate small groups, such as board meetings and church staff retreats, as well as large groups up to 450 guests. For more information, call (800) 950-2092 or visit www.thecove.org. You can also connect with The Cove on these social media sites: Facebook, Twitter, YouTube, Instagram, Periscope and Pinterest.
MEDIA CONTACT
Lisa Moseley
704- 401-2116
lmoseley@bgea.org