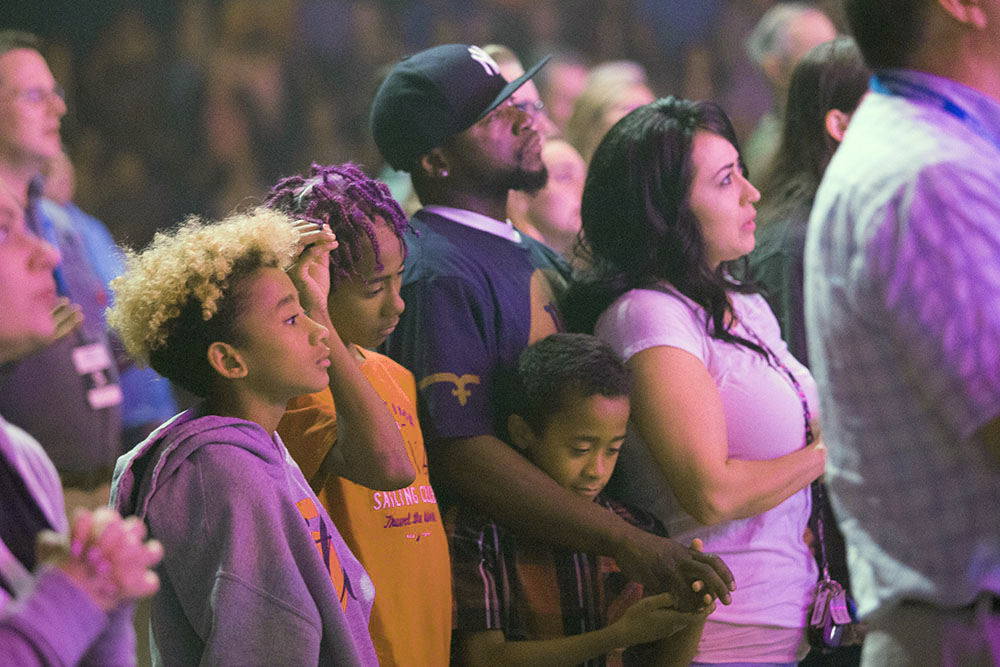 FORT WAYNE, Ind., Oct. 9, 2017 – The Expo Center at the Allen County War Memorial Coliseum came to life this weekend with uplifting music and inspirational messages of hope, as a total of 4,418 people attended the three-day Greater Fort Wayne Celebration with Will Graham, held Oct. 6-8 in Fort Wayne, Ind.
"You want to live life your own way. All the things you're looking for, they're elusive. Deep down you're miserable. You have no joy, no happiness, no fulfillment," said evangelist Will Graham in his Saturday night message. "God will forgive you tonight. God's not going to put Band-Aids on your life. He'll give you a whole new life!"
More than 420 people responded to the invitation to begin a relationship with Jesus.
In addition to those in attendance in Fort Wayne, the Celebration services were broadcast online and viewed more than 46,000 times by people in 62 different countries, with 179 indicating a commitment to Christ.
"For me it's an encouragement, thinking about the impact long-term that it's going to have on the local churches and in this local community as well," said Matthew Gullion, director of missions for the Northeastern Indiana Baptist Association, who—along with Donovan Coley, president and CEO of the Fort Wayne Rescue Mission—helped to guide the Celebration planning effort.
"We know it's one soul at a time, but when you see hundreds come to know Jesus … they are no longer followers of the world but followers of Christ, and there will be a transformation in the city. We're excited about seeing what God's going to do, not just through this weekend but in the years to come."
Graham was joined onstage by award-winning Christian musical artists including Phil Wickham, The Afters and Jimi Cravity. Aaron Shust led the audience in worship all three evenings of the Celebration.
The Greater Fort Wayne Celebration was the first of three back-to-back multi-day outreaches for Graham. His next event will take place in Cluj-Napoca, Romania, Oct. 21-22. He will then travel to Prince Edward Island, Canada, for a Celebration in Charlottetown, Nov. 4-5.
About Will Graham
Will is the third generation of Grahams to proclaim the Gospel of Jesus Christ under the banner of the Billy Graham Evangelistic Association (BGEA). He is the grandson of Billy Graham and the oldest son of Franklin Graham. He also serves as vice president of the BGEA, and as executive director of the Billy Graham Training Center at The Cove in Asheville, N.C. Follow Will on Facebook at www.Facebook.com/WillGraham4 and on Twitter at www.Twitter.com/TellaGraham.