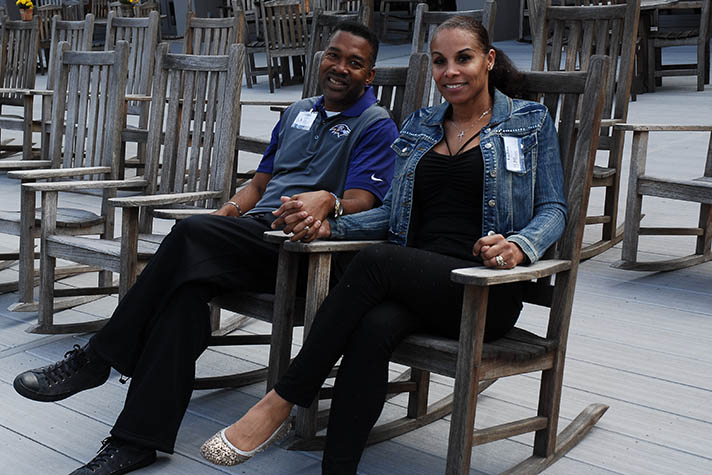 ASHEVILLE, N.C., Jan. 29, 2016 —The Billy Graham Training Center at The Cove is offering three marriage retreats in 2016 designed specifically for active-duty U.S. armed services members and their spouses. These programs are free of charge* and will provide practical applications for building biblically solid marriage relationships. Speakers will focus their messages on the unique experiences of military life. Topics include communication, intimacy, attraction, conflict and fidelity. Those interested in attending must complete an application.
"Belonging to a military family brings with it a host of unique circumstances and challenges," said Will Graham, executive director of The Cove. "Our prayer is that couples who attend the military marriage retreats here will experience renewal in their relationships as they spend time in God's Word and in fellowship with other military couples. We're confident that their time of relaxation and rest in the beautiful mountains of North Carolina will inspire rejuvenation in their souls and marriages."
Upcoming military marriage retreats include:
*Registration Information:
While each military marriage retreat session is free, all military personnel desiring to attend one of these seminars will need to complete and return a resource assistance form to The Billy Graham Training Center at The Cove. Details can be found at www.thecove.org or by calling (800) 950-2092.
For more information about these, and other, events, view the complete events schedule online at www.thecove.org. Call (800) 950-2092 for the latest information on availability and pricing. The Cove also offers financial assistance for individuals.
About The Cove:
Nestled in the scenic mountains of Asheville, N.C., the Billy Graham Training Center at The Cove offers guests a unique and serene experience for purposeful growth through Bible training; in-depth seminars; personal spiritual retreats; concerts; programs for seniors, women and church or ministry leaders; and many other inspirational events throughout the year. The Cove is also available for group events for Christian churches and nonprofit ministries who are looking for a conference and retreat center. Facilities can accommodate small groups, such as board meetings and church staff retreats, as well as large groups up to 450 guests. For more information, call (800) 950-2092 or visit www.thecove.org. You can also connect with The Cove on these social media sites: Facebook, Twitter, YouTube, Instagram, Periscope and Pinterest.
Media Contact:
Lisa Moseley
lmoseley@bgea.org
704-401-2116