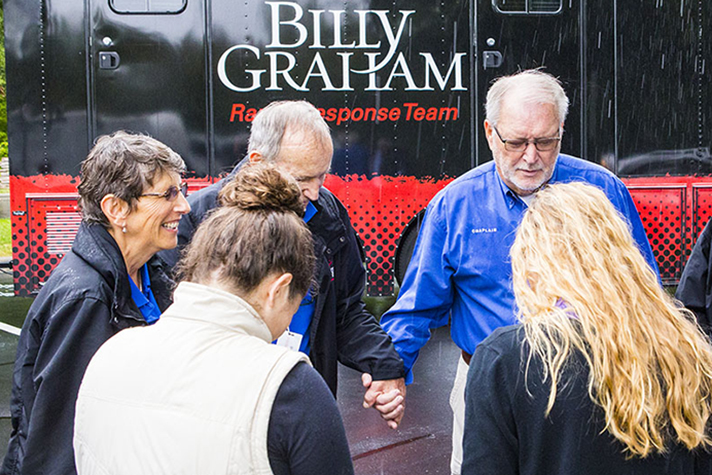 CHARLOTTE, N.C., Sept. 9, 2017 – Crisis-trained chaplains with the Billy Graham Rapid Response Team will deploy to the Southeastern U.S. in the wake of destruction left by Hurricane Irma, which has been regarded as one of the largest recorded storms in history. Early assessments estimate coastal communities in Florida will experience catastrophic damage similar to what has already been seen across the Caribbean.
Hurricane Irma has vacillated over the past few days, losing and gaining strength. However, in a state that is home to more than 20 million Americans, Florida Gov. Rick Scott said, "All Floridians should prepare to evacuate." Coastal regions of Georgia and South Carolina are also under mandatory evacuation.
"The destructive power of Hurricane Irma, especially on the immediate heels of Hurricane Harvey, reminds us of how fragile our lives really are," said Jack Munday, international director of the Billy Graham Rapid Response Team. "I ask you to join us in praying for all of those who are in the path of this storm, many of whom will spend months or years – perhaps even the rest of their lives – trying to work through the physical and emotional suffering they will endure. We'll be there to offer the hope and comfort of Jesus Christ as they begin to find their 'new normal.'"
The Billy Graham Rapid Response Team will continue to monitor Hurricane Irma as it churns toward Florida. In preparation, they have been in communication with all of the crisis-trained chaplains living in Florida, and have identified more than 100 chaplains—living outside of the projected hurricane path—who are on standby to deploy once the storm has passed, water has receded and areas are declared safe to enter.
With significant ministry resources already committed in Texas following Hurricane Harvey, a Billy Graham Rapid Response Team Mobile Ministry Center based out of the Billy Graham Evangelistic Association's Canadian office in Calgary, Canada, is en route to North Carolina. The team will be staged for deployment alongside Samaritan's Purse, the Christian disaster relief organization also headed by Franklin Graham. Together the two ministries will address the physical, emotional and spiritual needs of those who have been affected.
With all eyes now on Irma, there are no plans to reduce the presence of chaplains in Texas where over 100 chaplains are currently ministering to those affected by Hurricane Harvey.
For more information on the ministry, including videos, photos, news articles and an interactive map of former and current deployments, visit billygraham.org/rrt. Updates can also be found at facebook.com/RRTChaplains.
About the Billy Graham Rapid Response Team:
The Billy Graham Rapid Response Team was developed by Franklin Graham and the Billy Graham Evangelistic Association following the attacks of Sept. 11, 2001. It has since grown into an international network of chaplains in the U.S., U.K., Canada and Australia who are specifically trained to deal with crisis situations. They have deployed to more than 260 disaster sites, including shootings, floods, hurricanes, wildfires and tornadoes.