Do you feel called to pray specifically and regularly for RRT?
Get prayer requests in your inbox.
Listen to Dr. Doug Small on the prayer of lament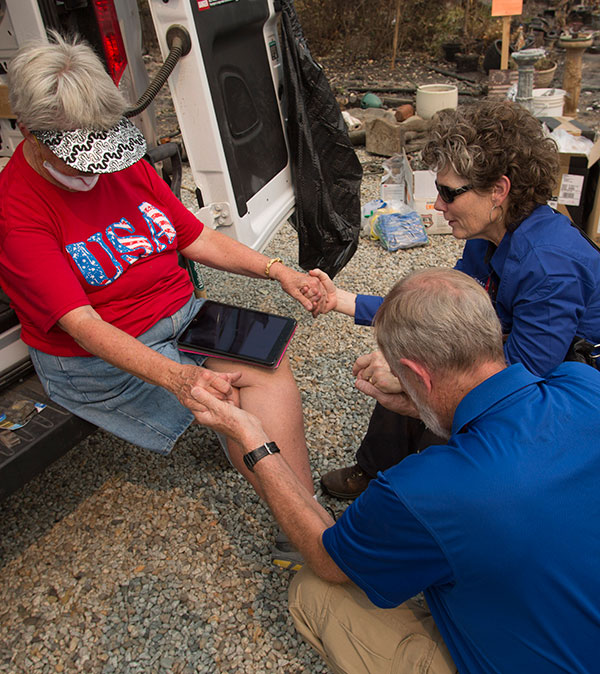 "God is our refuge and strength, a very present help in trouble."
—Psalm 46:1, ESV
Prayers for May 2020:
Thank you dear friends for praying for the ministry of the Billy Graham Rapid Response Team (RRT). Your prayer efforts are so appreciated. Please see the short prayer below on your behalf along with our current requests.
"I have not stopped giving thanks for you …" —Ephesians 1:16
Lord, we thank You for the hearts of those who pray for us. During this worldwide COVID-19 outbreak, we ask that You would comfort, provide, protect, heal and minister to their every need. We ask this in Jesus' Name. Amen.
Need to talk? Call 1-888-388-2683.
Minneapolis, Minnesota, Community in Crisis Response: The Billy Graham Rapid Response Team is sending crisis-trained chaplains to Minneapolis, Minnesota, to support the community  following the death of George Floyd. Please pray for peace to pour into the community at large. Ask God to stop further assault from division and heartache. Invite His love and compassion to those grieving, and ask Him to use the chaplains to be His hands and feet.
Texas Tornado Response: The Rapid Response Team deployed alongside Samaritan's Purse to Bowie, Texas, after an EF-1 tornado damaged around 200 homes. Pray that God would comfort those grieving and meet every need.
Michigan Flooding Response: Rapid Response Team chaplains are ministering in Midland County, Michigan, following a dam break that caused much destruction. Please pray for all those who are enduring great loss. Ask God to comfort them like only He can. Pray for chaplains as they come alongside Samaritan's Purse to offer the love of Christ to all who are in need.
National Deployment: While adhering to CDC guidelines—and when appropriate—RRT chaplains have been encouraged to wear their chaplain blue shirts in their neighborhoods during this pandemic. Pray that chaplains would have opportunities to offer hope to their communities. Ask God to use this response for His glory, and that the love and hope of Christ might be felt.
Billy Graham Burial Site Ministry of Presence: Although the Billy Graham Library is still closed due to the COVID-19 crisis, people are welcome to visit the Library grounds in Charlotte, North Carolina. RRT chaplains are once again offering a ministry of presence at Mr. Graham's gravesite. Recognizing this is a memorial site where people come to pay their respects, RRT chaplains are there to listen and pray for the individual needs of those who stop by.
Preemptive Prayers Relating to Natural Disasters: Thank the Lord for seasons of favorable weather patterns and ask Him to keep extreme weather conditions at bay. Since Jesus Himself said, "Peace! Be still!" (Mark 4:39) to the storm, pray for accommodating weather. Thank Him for taking care of our every need.
Preemptive Prayers Relating to Man-made Disasters: Please pray for God's love and truth to penetrate the minds and hearts of those who may be considering creating havoc that would result in injury to themselves and/or others. Invite God's powerful presence to draw people to Himself that they might know life in the fullest measure through Christ.
Thank you for praying!