Do you feel called to pray specifically and regularly for RRT?
Get prayer requests in your inbox.
Listen to Dr. Doug Small on the prayer of lament
"God is our refuge and strength, a very present help in trouble."
—Psalm 46:1, ESV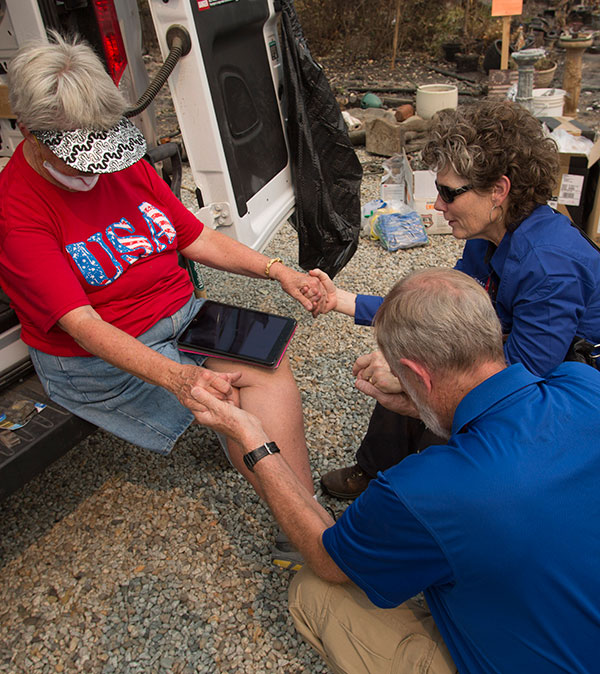 December 2018 Prayer Requests:
Northern and Southern California fires: Please continue to pray for the people of California affected by the fires. Lift up those who are grieving and those searching for the missing. Lift up first responders and residents as they have endured so much. Pray for Rapid Response Team chaplains as they offer the hope of Christ to those devastated from the Camp Fire.
Hurricane Michael: Please continue to pray for those in the Southeast who are suffering the effects of Hurricane Michael. Ask God to comfort those who are grieving. Pray for all who have been critically affected by this devastating storm. Pray for RRT chaplains as they offer help and support through the love of Christ to those in Albany, Georgia, and Wewahitchka, and Panama City, Florida.
Billy Graham burial site ministry of presence: RRT chaplains are offering a ministry of presence at Billy Graham's grave site on the grounds of the Billy Graham Library in Charlotte, North Carolina. Recognizing this is a memorial site where people come to pay their respects and mourn Mr. Graham's passing, RRT chaplains are there to listen and pray for the individual needs of those who stop by. Thank you for praying for this outreach effort especially during this Christmas season.
Recent disasters: Lift up those affected by man-made and natural disasters in recent weeks and months. Ask God to comfort and encourage those enduring emotional and physical stress. Pray for His work to be accomplished in individual lives as He tenderly cares for them.
Thank you for praying!