Do you feel called to pray specifically and regularly for RRT?
Get prayer requests in your inbox.
Listen to Dr. Doug Small on the prayer of lament
"God is our refuge and strength, a very present help in trouble."
—Psalm 46:1, ESV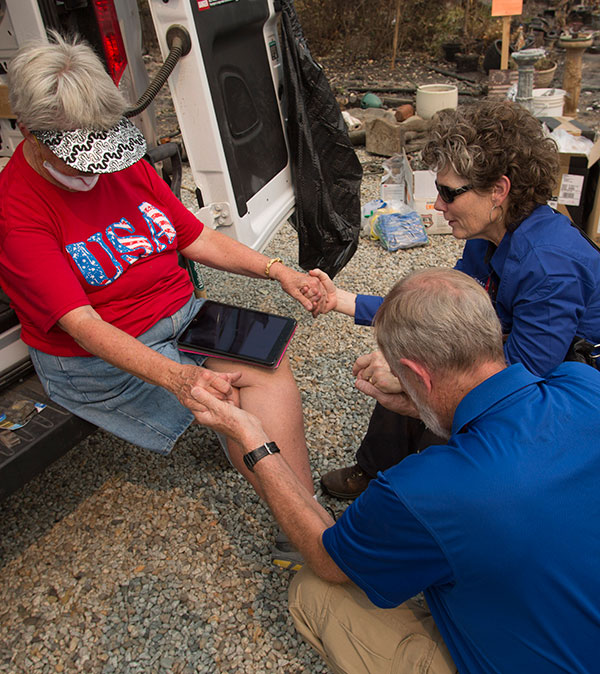 Prayers for August 2019:
Nicetown, Pennsylvania, shooting: Following the Nicetown police shooting, Rapid Response Team chaplains are working with a local church to offer emotional and spiritual care to the community, including law enforcement. Please pray for healing of those injured and traumatized. Ask God to minister to the families of officers rocked by the news of this horrific shooting. Invite our Almighty God to bring peace, help and hope in the Philadelphia area.
El Paso, Texas, and Dayton, Ohio: Please continue to pray for the families of those who lost loved ones, as well as those who were injured recently in mass shootings in El Paso, Texas, and Dayton, Ohio. As the freshness of grief, physical and emotional injuries continually bring pain, ask God to bring hope and restoration to these communities.
U.S./Mexico border deployment: RRT chaplains are responding with help and support to churches in two Texan communities who are receiving sponsored immigrants. Please pray for the churches and RRT chaplains as they show the love and compassion of Christ to these distraught migrants.
Chief Law Enforcement Officer Retreat: Please pray for our upcoming September retreat for law enforcement executives. As the Billy Graham Rapid Response Team law enforcement ministry seeks to honor and encourage chiefs and sheriffs, ask God to guide us. Pray that this event will serve law enforcement leaders, who daily serve others.
Sharing Hope in Crisis seminar: As Rapid Response Team staff prepares for the upcoming Sharing Hope in Crisis seminar, ask God to ready the hearts of those who will attend this November event. Pray He will use this training to equip attendees to serve family, friends, co-workers and neighbors in personal times of crisis.
Preemptive prayers relating to natural disasters: Ask the Lord to stabilize the weather patterns and keep extreme weather conditions at bay. Since Jesus Himself said, "Peace! Be still!" (Mark 4:39) to the storm, pray for accommodating weather. Thank Him for taking care of our every need.
Preemptive prayers relating to man-made disasters: Please pray for God's love and truth to penetrate the minds and hearts of those who may be considering creating havoc that would result in injury to themselves and/or others. Invite God's powerful presence to draw people to Himself that they might know life in the fullest measure through Christ.
Billy Graham burial site ministry of presence: RRT chaplains continue to offer a ministry of presence at Mr. Graham's gravesite on the grounds of the Billy Graham Library in Charlotte, North Carolina. Recognizing this is a memorial site where people come to pay their respects and mourn Mr. Graham's passing, RRT chaplains are there to listen and pray for the individual needs of those who stop by. Thank you for praying for this outreach effort.
Rockport/Pearland, Texas, rebuild ministry: RRT chaplains are working alongside Samaritan's Purse (SP) rebuild teams in Rockport and Pearland, Texas, offering a ministry of presence to homeowners and SP volunteers and staff. Please pray for homeowners, asking God to minister to them as they wait for the completion of their homes. Ask God to protect the worksites. Lift up RRT chaplains as they offer help and support to this vital ministry.
Recent disasters: Lift up those affected by man-made and natural disasters in recent weeks and months. Ask God to comfort and encourage those enduring emotional and physical stress. Pray for His work to be accomplished in individual lives as He tenderly cares for them.
Tar Heel State Decision America Tour: In October, Franklin Graham will travel throughout North Carolina to proclaim the Gospel at one-day evangelistic events. As RRT chaplains go to offer help, support and prayer, ask God to have His way. Pray that others may know Him as Lord and Savior through these events.
Thank you for praying!