Do you feel called to pray specifically and regularly for RRT?
Get prayer requests in your inbox.
Listen to Dr. Doug Small on the prayer of lament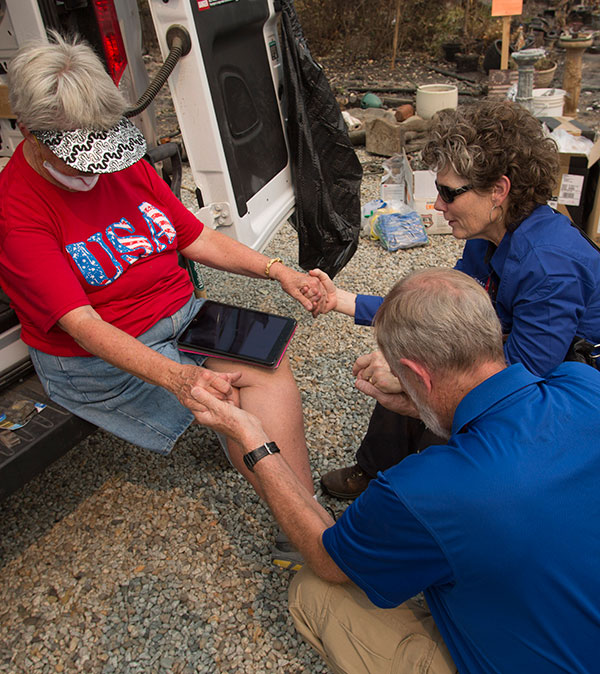 "God is our refuge and strength, a very present help in trouble."
—Psalm 46:1, ESV
Prayers for March 2020:
Thank you dear friends for praying for the ministry of the Billy Graham Rapid Response Team (RRT). Your prayer efforts are so appreciated. Please see the short prayer below on your behalf along with our current requests.
"I have not stopped giving thanks for you …" —Ephesians 1:16
Lord, we thank You for the hearts of those who pray for us. During this worldwide outbreak, we ask that You would comfort, provide, protect, heal and minister to their every need. We ask this in Jesus' Name. Amen. Need to talk? Call 1-888-388-2683.
New York City and Italy COVID-19 Responses: Crisis-trained chaplains are responding alongside Samaritan's Purse at field hospitals in northern Italy and New York City. Please pray for all those who are sick and ask God to protect others, while also bringing hope and comfort for tomorrow. Please pray protection for RRT chaplains as they offer the love and compassion of Christ in these dire circumstances. Pray for our leaders as they work to eliminate this virus scientifically and socially.
Jonesboro, Arkansas, Tornado Deployment: RRT chaplains are deploying to offer help and hope to those in Jonesboro, Arkansas, following an EF-3 tornado that swept through the area. Ask God to bring great comfort to those affected and lift up the chaplains as they minister.
National Deployment: While adhering to CDC guidelines—and when appropriate—RRT chaplains have been encouraged to wear their chaplain blue shirts in their neighborhoods during this pandemic. Pray that chaplains would have opportunities to offer hope to their communities. Ask God to use this response for His glory, and that the love and hope of Christ might be felt.
Preemptive Prayers Relating to Natural Disasters: During this already turbulent time, ask the Lord to stabilize the weather patterns and keep extreme weather conditions at bay. Since Jesus Himself said, "Peace! Be still!" (Mark 4:39) to the storm, pray for accommodating weather. Thank Him for taking care of our every need.
Preemptive Prayers Relating to Man-made Disasters: Please pray for God's love and truth to penetrate the minds and hearts of those who may be considering creating havoc that would result in injury to themselves and/or others. Invite God's powerful presence to draw people to Himself that they might know life in the fullest measure through Christ.
Thank you for praying!