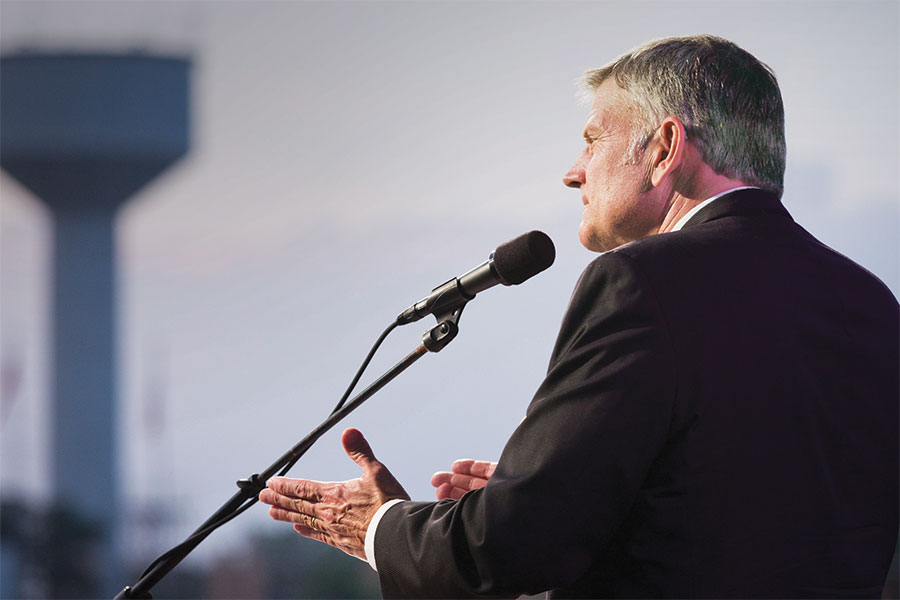 Next month is my father's 95th birthday. It has been 64 years since his landmark crusade in Los Angeles, and eight years since the last time he spoke from a pulpit in New York City.
Years take their toll, but God has kept my father's mind sharp, his spirit refreshed, and his heart burdened for souls who are dangerously lost.
More than anything else, my father wants to preach again. As he studies his Bible and dwells in prayer, God has put a fresh message on his heart. For months now, he's been preparing himself to deliver the words America needs to hear.
That's why we've organized My Hope America With Billy Graham, a nationwide evangelistic event unlike anything we've ever done in this country.
If you watch the news like my father does, then you don't need me to tell you our nation is in trouble. Many Americans have rejected their Christian upbringing. Others are intimidated by churches and have never heard the Gospel. Sin is so rampant that our society accepts it as the norm. I've never seen such hostility toward the Name of Jesus Christ.
In our hearts, America is not much different than wayward Israel more than 3,000 years ago:  "Everyone did what was right in his own eyes" (Judges 17:6, ESV). God has no use for a nation like that.
America needs to turn back to the Lord before it's too late. God has brought revival before, and He can do it again. Let's ask Him to send His Spirit and use the power of His Word to transform the hearts of men, women and children.
At the same time, let's ask our friends and neighbors to take an evening the first week of November to hear what my father has to say. That's the secret of My Hope—people like you invite people you know into the comfort of your home to see my father share the Gospel on TV or DVD.
If you would like to honor my father for his lifetime of preaching the Gospel, nothing would delight him more than for you to fill your living room with folks who need to hear the Gospel. These might be the same people you would invite for a Super Bowl party or a July 4 cookout.
If your church is participating in My Hope—and we praise God that more than 22,000 are—that's a great way for you to get involved. We want to strengthen and equip all these churches to reach their communities with the Good News of eternal life in Christ.
If your church is not participating, then it's even more important that you get involved individually—to be a beacon for the Gospel where you live. You can sign up at MyHopeWithBillyGraham.org, and we'll supply you with everything you need.
Over the past 12 years, the Billy Graham Evangelistic Association has organized My Hope events in 57 nations, from Russia to India, Malawi to Haiti, and the Philippines to Brazil. The Lord has worked in mighty ways through My Hope to bring millions to repentance and faith in Jesus Christ as their Lord and Savior.
Now is America's time.
©2013 BGEA