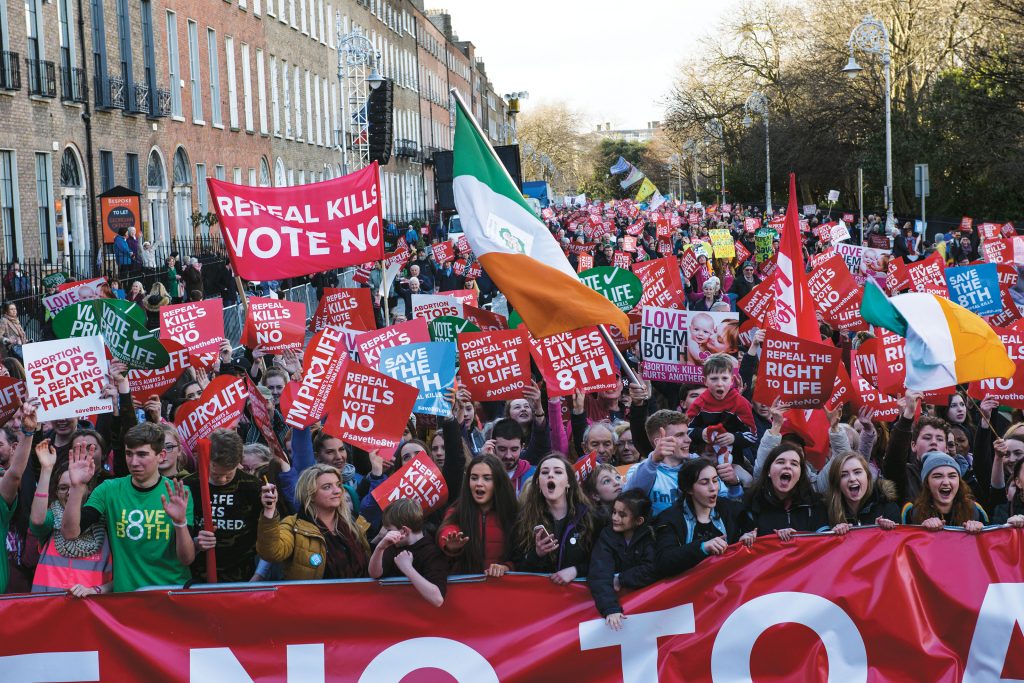 Earlier this year, the California Senate passed a bill that would force all 34 state universities in California to provide abortion pills such as RU-486 to students at campus health centers. According to California Family Council, "if the bill becomes law, California will be the first state to force universities to provide medication abortion pills."
The bill, known as SB 320, has moved to the California Assembly and, if passed, will go before Gov. Jerry Brown, who in 2013 signed a law allowing nurses to perform non-surgical abortions. If signed into law, campuses in California will be required to offer abortifacients by 2022.
Ireland: Many Thousands Attend Rally and March for Life
A record-breaking crowd of nearly 100,000 people gathered in Dublin, united by one goal—save the Eighth.
Introduced in 1983, the Eighth Amendment grants equal right to life for the unborn child and the pregnant woman. This amendment to the Irish Constitution is the country's last remaining protection for the unborn.
The Republic of Ireland has a near total ban on abortion, making it one of Europe's strictest concerning abortion laws. Abortion was permitted for the first time in 1983 under certain conditions—when the life of the woman is at risk.
But the Irish cabinet has now agreed to a referendum on whether to keep or replace the Eighth Amendment in total.
If the Eighth Amendment is removed from the Constitution, the government will aim to prohibit late-term abortions except in the case of fatal fetal abnormalities, The Irish Times reported.
Ireland is at a defining point in its history, said Niamh Uí Bhriain of Life Institute's "Save the 8th" campaign. "We are challenging the people to reject the abortion industry and to demand a better answer for mothers and babies."
The referendum will be held on May 25.
United States: Trump Education Department Reverses Obama Policy
The U.S. Department of Education is no longer investigating complaints from transgender students who claim discrimination for having to use bathrooms that correspond to their biological sex, because such complaints are not covered by Title IX anti-discrimination laws.
"Title IX prohibits discrimination on the basis of sex, not gender identity," said Elizabeth Hill, Education Department press secretary, in an email to NBC News.
However, Hill stressed that the Office for Civil Rights will continue to use current law and current regulation to determine if any child in school, regardless of gender identity, is being harassed or discriminated against due to race, sex or disability.
Mississippi: Federal Judge Blocks Abortion Ban
A bill to ban abortions after 15 weeks of pregnancy was signed into law in Mississippi, but just one day later, a federal judge issued an order initially blocking it for 10 days but later extended the temporary restraining order pending a Sept. 24 hearing.
House Bill 1510, known as the Gestational Age Act, was approved by the House with a vote of 75-35, and by the Senate with a vote of 35-14. It was then signed into law by Gov. Phil Bryant, making it the strictest abortion ban in the country related to gestational age.
The Center for Reproductive Rights then filed a lawsuit challenging the constitutionality of the ban, leading to the judge's temporary injunction.
"All women deserve access to safe and legal abortion care, no matter their zip code," said Nancy Northup, president and CEO of the Center for Reproductive Rights. "Yet Mississippi politicians have shown once again that they will stop at nothing to deny women this fundamental right …"
Other states have passed far earlier abortion bans, including 12 weeks in Arkansas and six weeks in North Dakota. Those laws, however, were quickly struck down by courts as a violation of Roe v. Wade for banning abortion completely in the first trimester.
Mississippi signaled it would defend the law.
Indonesia: Court Rejects Christian Governor's Appeal
The Supreme Court of Indonesia has refused to hear the appeal of the former governor of Jakarta, who was convicted last year of blasphemy against Islam. Basuki "Ahok" Tjahaja Purnama is serving a two-year prison sentence related to remarks he made during his campaign.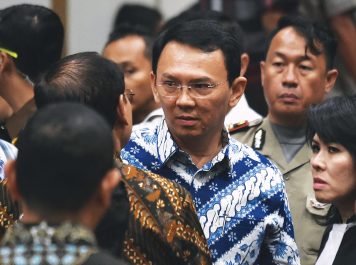 Ahok was seeking to become Jakarta's first directly elected non-Muslim leader, after having been elevated from deputy governor to governor when his predecessor, Joko Widodo, won the nation's presidential election.
Though Ahok initially led in the polls by a wide margin, the mood shifted dramatically after he claimed in a speech that his political opponents were using verses from the Quran to convince Muslims that they must not vote for a non-Muslim.
An edited video of Ahok's speech went viral, sparking widespread outrage. Hardline Islamic groups held demonstrations and demanded that Ahok be jailed or publicly lynched. He lost the election to former minister of education Anies Baswedan, and the following month he was convicted of blasphemy, which is a crime in Indonesia, home to the world's largest Muslim population.
Ahok appealed the conviction after a man was found guilty of tampering with the video of Ahok's speech. But, according to Agung Suhadi, spokesperson of the Supreme Court in Indonesia, the appeal has been rejected.
Canada: Rejections Rise for Pro-Life Employers
The Canada Summer Jobs (CSJ) program, which provides grants to hire students for summer work, is making its way through federal court, with a hearing set in June, after many pro-life activists complained that faith-based employers are shut out of the program because of their beliefs.
In order to qualify for grants, the federal government requires applicants to be in agreement with the Canadian Charter of Rights and Freedoms, which it says includes "sexual and reproductive rights—and the right to access safe and legal abortions," according to Employment and Social Development Canada.
The controversy over this requirement has resulted in a 12-fold increase of rejected applications but only a slight increase in the number of applications coming in.
According to the National Post, the government received 41,961 applications in 2017, of which 126 were rejected. This year, with the new requirement, the government has received 42,647 applications, and 1,561 were rejected.
"Many groups re-applied, asking for religious accommodation, but the government has said it is not backing down on the requirement," the newspaper reported.
California: Proposed Bill Would Outlaw Help for Unwanted Same-Sex Attraction
The California Assembly is considering a bill, introduced by the California LGBT Caucus, that would prohibit anyone, including pastors and licensed therapists, from helping someone seeking treatment for unwanted same-sex attraction or behavior.
The bill, AB 2943, passed the Assembly's Privacy and Consumer Protection Committee by an 8-2 vote in April and was referred to the Judiciary Committee. If passed into law, the bill would make it unlawful not only to engage in sexual orientation change efforts with an individual but also to advertise or offer to engage in such activity. The state already has made it illegal to provide such counseling to minors, even with parental consent. The new bill would apply to all Californians, making it unlawful for any person to sell books, counseling services, or anything else that directs people to trust in Jesus Christ to help them overcome unwanted same-sex attraction or gender confusion.
"California AB 2943 is a very dangerous bill that will do a lot of damage to people seeking help with unwanted same-sex attractions or gender confusion," said Mat Staver, founder and chairman of Liberty Counsel. "People have the right to seek the counsel of their choice, but this bill substitutes the government for personal choice."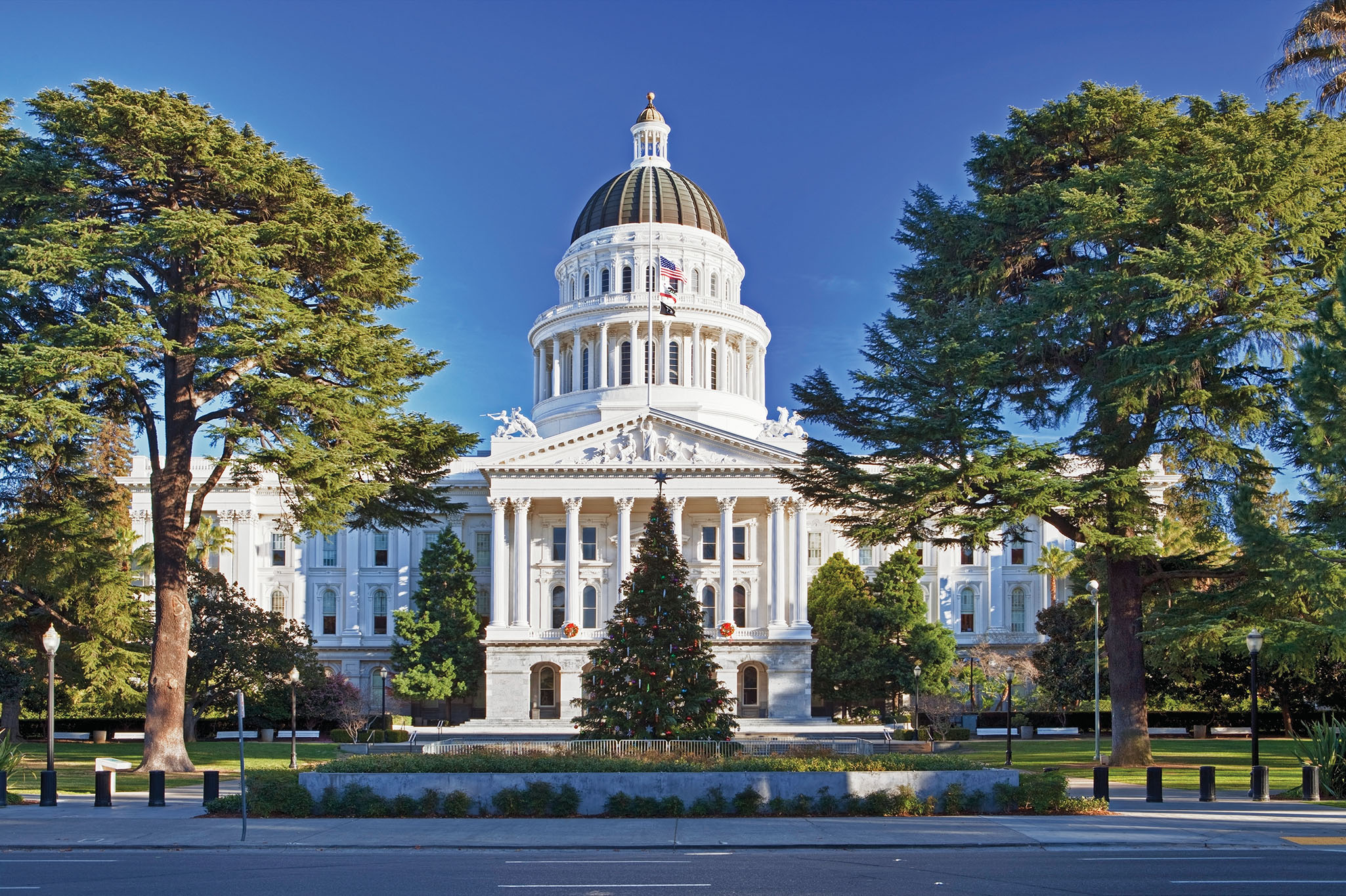 Alliance Defending Freedom issued a legal analysis of the bill that noted:
"At its core, AB 2943 outlaws speech, whether offered by a licensed counselor, a best-selling author, or even a minister or religious leader. It targets a specific message—that an adult who is experiencing unwanted same-sex attraction or gender identity confusion can find help to address those issues—for censorship. The breadth of this censorship is staggering."
Although ADF concluded that the bill is likely unconstitutional, such trivialities often matter little to progressive judges, legislators and bureaucrats, who dominate California policymaking and politics.
Franklin Graham will hold rallies in 10 California cities this month and next, in an effort to "pierce the blue wall" with the message of Jesus Christ.