In the afterglow of celebrating the greatest comeback victory in Super Bowl history, New England left tackle Nate Solder's face beamed as he held his 18-month-old son, Hudson, on the field at Houston's NRG Stadium following the Patriots' 34-28 overtime win over the Atlanta Falcons.
Hudson gripped a tiny red football in his right hand and wore a red Patriots t-shirt.
It was an unforgettable moment for Nate, who along with his wife, Lexi, had spent the previous 15 months prayerfully dealing with Hudson's cancer diagnosis.
Subscribe to Decision
Get your own subscription, or renewal, or bless someone by giving Decision magazine as a gift.
Subscribe Now
"It's very special, very special indeed," Nate said after the game. "To have him down on the field … He may not remember it—he probably won't—but [for him] to see some pictures [later in life] and know all the things we've been through this year, it's been a special year."
Solder's performance against the Falcons paralleled his journey with Hudson—deep lows followed by encouraging progress, all covered in God's grace.
Solder's job is to defend quarterback Tom Brady, but he struggled to block Atlanta defenders during the first half, giving up a reported eight quarterback pressures. The Falcons' lead swelled to 28-3 early in the second half before Brady and the Patriots found their stride in an unprecedented rally. The 25-point comeback obliterated the previous largest comeback (10 points) over the first 50 Super Bowls.
"I played terrible," Solder said of his first-half performance. "I knew … I needed to play better for our team to be successful at all."
Solder's coaches and teammates knew they could count on him. In the week before the Super Bowl, Brady and record-setting coach Bill Belichick reflected on how Solder has inspired them.
Both locks for the Pro Football Hall of Fame, Belichick and Brady became the first coach/quarterback combo to appear in seven Super Bowls together and to win five. They've watched Solder up close and told Decision of their affection for him and gratitude for his work ethic, humility and faith.
"I love the guy," Brady said. "As great as he is as a player, he's a better person, a better human being. He's a loving father and a loving husband. He's a very quiet, humble person who wants to do a great job every day. He means a lot to me and this team."
Belichick, known for his sometimes gruff disposition, also spoke warmly about Solder.
"He has tremendous character, absolutely the highest," Belichick said. "I think we all respect Nate for what he's done with Hudson and how that's gone. He's always there for [his son]. We understand there are some things [with the team] he has to miss in order to be there—but that is the most important thing. That speaks to Nate's personal characteristics."
Solder appreciates how his coaches and teammates feel about him, but knows that the praise doesn't belong to him.
"It's a clear sign that it's not me that they're seeing," Solder said. "It's Christ working through me because I know that I'm a flawed person. I'm sure they would have seen that if God had not been using me. … But I'm very honored that they would say that and that they would get to see God in that way."
Solder was glad to be back with the Patriots this season after missing the last 12 games of last season with a torn bicep.
However, he considers the injury a godsend because it happened eight days before Hudson was diagnosed with Wilms tumor, a very rare condition that Solder said affects only about 25 infants per year in the United States.
"I think the injury was totally the providence of God," Solder said. "It was instruction to me regarding His character. I say that I was fortunate enough to tear my bicep because I had the opportunity to spend time with my family.
"It was emotionally difficult, and still is, but we fight every day through our faith in the Lord Jesus Christ, who has carried us through it."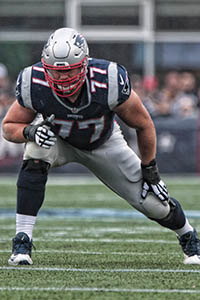 Solder says one of the most difficult times for him and Lexi was driving to a children's hospital for a follow-up appointment after Hudson was first diagnosed.
"He was laughing and playing in the car seat as we were driving, but my wife and I cried the entire way," Solder said. "We didn't feel like we belonged where we were. I think we were probably in denial of the whole situation.
"But through the grace of God, He's provided a new lens on life. We're thankful for everything. We're just so much more grateful."
Hudson is much better now, and his illness has given the Solders a platform to help other parents and ailing young children through the Hudson's Heroes program they've founded.
"He still has cancer, still has tumors, but they've just removed his port because [the tumors are] not growing," Solder said. "They're staying the same, so we can do surveillance from here on out."
The experience has greatly deepened Solder's faith and given him a dramatically different perspective than he had two years ago when the Patriots last played in the Super Bowl.
"I just know how frail everything is, how easily it can be taken away and how fortunate we are to be out here every single day," he said.
"But I have my priorities set, and my top priority is God and then my family. When those things are squared away, everything else falls into line. My faith in the Lord is so much bigger than anything we're doing here, so much bigger than the Super Bowl."
©2017 BGEA
Christian Bond Between Falcons Fullback, Patriots Chaplain Supersedes Super Showdown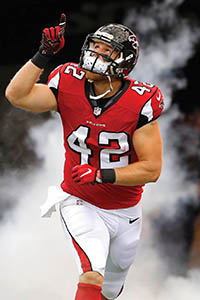 The Super Bowl LI matchup between New England and Atlanta made game-day opponents out of two dear Christian friends.
Falcons fullback Patrick DiMarco was on the opposite sideline from the man who mentored him and officiated his wedding—Patriots team chaplain Jack Easterby.
"He's been monumental in my walk with Christ," DiMarco said of Easterby, who was the chaplain at the University of South Carolina when DiMarco played there.
DiMarco's Falcons burst out to a 28-3 third-quarter lead, but watched it wither away as the Patriots rallied for a 34-28 overtime win in the biggest comeback in Super Bowl history.
For both men, the outcome of the game had no bearing on a greater
priority.
"I think all these opportunities have to do with raising up the Kingdom of God," Easterby said. "He is using these things, even the biggest stage, for His glory and to draw all men to Himself."
DiMarco, who caught two passes for 12 yards against the Patriots, emphatically concurs. His passion, far more than football, is to share the Gospel through his words and actions.
"Jesus paid it all on the cross," he said. "I like to tell people there's nothing we can do that's going to change His love for us."  ©2017 BGEA
Patriots Slater: All-Pro Is All-In for Jesus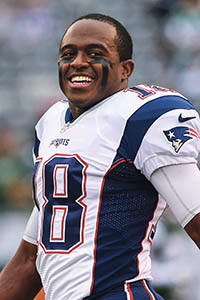 New England Patriots All-Pro special teams player Matthew Slater—whose father, Jackie, is a Pro Football Hall of Famer—boldly professed Christ during four days of interviews prior to Super Bowl LI. He demonstrated his faith last fall by forming a "Matthew vs. Matthew" fund-raiser to support Samaritan's Purse's disaster relief efforts for Hurricane Matthew victims. Here's a sampling of what Slater told reporters covering the Super Bowl:
"Everything I do, I do for an audience of One."
"I wouldn't be who I am or where I am without Jesus in my life. It's only by God's grace and mercy that He's shown me, and what He's done in my life. It's nothing short of a miracle that He's allowed me this platform and this opportunity. So I feel an obligation—at the very least—to tell people the reason that Matthew Slater is up here doing this is because of Jesus Christ.
I wouldn't rest well in my soul if I didn't do that."
"For anybody who's [willing] to listen and sometimes to people who aren't, I want to make sure that I give the glory to God [so] people understand I'm not a self-made man."
"I don't put all my eggs into the football basket. Football's a temporary game, and I hope (others) see a guy who's got an eternal perspective beyond the game."
"We serve a perfect God who cannot associate with sin, [but] that gap has been bridged by what Christ did on Calvary. … It's something I'm putting 100 percent of my hope and trust in. It's as simple as that to me."
©2017 BGEA