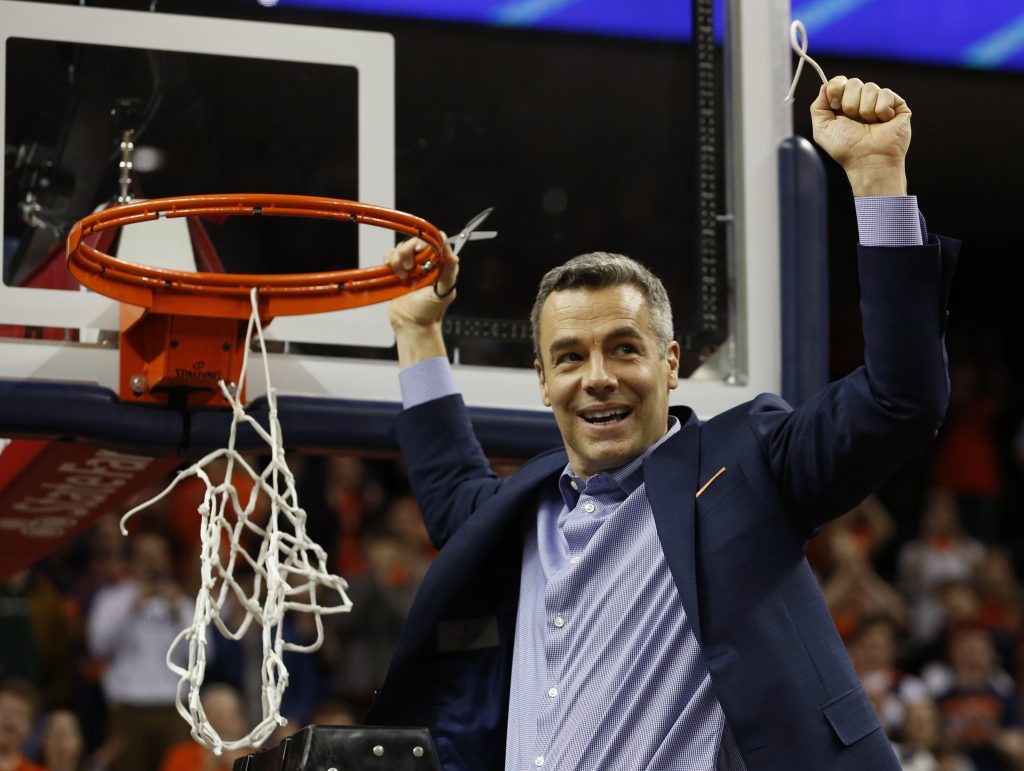 Tony Bennett led the No. 1 seed University of Virginia basketball team to victory in overtime Monday night over Texas Tech in the NCAA Division 1 Men's National Championship game. "I do want to thank the Lord and my Savior," Bennett stated during a post-game interview. This is the Cavaliers' first national championship.
This article was originally published in Decision magazine in 2014, after UVA won the ACC Tournament for the first time since 1976. Since then, Bennett has surpassed 250 career wins (2017), won another ACC Tournament (2018) and led the Cavaliers to the Elite Eight twice (2016, 2019).
Men's basketball players at the University of Virginia not only have a coach who just guided them to the school's most successful season in more than three decades, they also have a coach who regularly prays for them.
Tony Bennett privately kneels to intercede for their health and for their relationships. He asks God that they'll perform with excellence, that they'll reach their full potential, that he'll coach them well and that they'll discover and know Jesus Christ.
"How many people are mad at you when you tell them that you've prayed for them?" Bennett says with a chuckle.
"It's my hope that they'll be able to find the truth in their lives that has really transformed my life. But I realize they're all on a journey, and I certainly try to be respectful of that."
'He Practices What He Teaches'
Bennett has become one of the nation's most highly regarded college basketball coaches. He has a 320-122 record in 13 seasons at Washington State (2006-2009) and Virginia (2009-present).
In 2017-18, Bennett led Virginia to its eighth ACC regular-season title and its third ACC Tournament championship, breaking records along the way. He also won the prestigious Henry Iba National Coach of the Year award—for the third time.
Not since the days of former All-American center Ralph Sampson in the early 1980s has Virginia enjoyed such a lofty spot among the nation's elite programs.
Legendary Duke coach Mike Krzyzewski told Decision that Bennett sets, teaches, enforces and models high standards.
"He leads his own life in a way that's easy to follow," Krzyzewski said. "He practices what he teaches. When a teacher does that, the students usually do it a lot better.
"He doesn't think of himself as better than anybody. I really like that humility [from] a very successful person, when they show [it] and it's genuine."
The Five Pillars
Bennett has built the Cavaliers' program around the Biblical principles of humility, passion, unity, servanthood and thankfulness. He calls them the "Five Pillars," which he got from his father, Dick Bennett, a retired college basketball coach.
"Whether you're a believer or not, those are significant for a team," Bennett said. "They're (posted) in our locker room, and they're everything to our program. To be great in basketball, those things have to be there."
Cavaliers' former senior guard Joe Harris (now an NBA player with the Brooklyn Nets), who was named the most valuable player of the 2014 ACC tournament, said Bennett emphasizes one of the pillars almost every time he addresses the team.
"You can apply those pillars to the rest of your life, not just basketball," Harris said. "I always tell people that being at Virginia with coach Bennett helped me in a huge developmental standpoint as a basketball player, but that I developed even more as a person."
Harris said Bennett has a consistently calm, collective demeanor, but isn't reluctant to ask for forgiveness if he overzealously corrects a player.
"Everybody on the team has so much respect for him," Harris said. "You don't want to let him down."
A 'Fun Dad' and Thoughtful Husband
Bennett accepted Christ at age 14 at a Fellowship of Christian Athletes camp in Colorado. He went on to play college basketball for his father at Wisconsin-Green Bay, where he set an NCAA record for best career three-point shooting percentage (49.7). After college, he spent three years in the NBA (1992-95) as a point guard for the Charlotte Hornets.
While in Charlotte, Bennett met Forest Hill Church pastor David Chadwick, a former University of North Carolina basketball player. Chadwick became a mentor and father figure to Bennett and has watched Bennett's relationship with Christ grow exponentially over the years.
"I've seen a maturity in his heart that's really quite amazing," Chadwick said. "It's been fun to see."
Chadwick presided over Bennett's wedding. Bennett met his wife, Laurel, when she was in youth ministry at Forest Hill.
They have two children—a daughter, Anna and a son, Eli.
"She's the brains behind our whole operation," Bennett said of Laurel. "She loves the Lord in a powerful way."
Laurel said Tony is a "fun dad" and an extremely thoughtful husband. She has a box full of notes he's written to her over the years.
"He writes specific things that he says he appreciates about me as a wife, as a mom, as a Christian," she said. "He takes time to notice the little things, and he's not vague. He's always good about making me feel loved."
'The Greatest Truth I Know'
Bennett values his coaching job as a gift from God, a position he's called upon to steward without allowing ambition for success to get out of bounds.
"If my life is just about winning championships—if it's just about being the best—then I'm running the wrong race," he said. "That's empty. But if it's about trying to be excellent and do things the right way, to honor the university that's hired you, the athletic director you work for and the young men you're coaching—always in the process trying to bring glory to God—then that's the right thing."
If my life is just about winning championships—if it's just about being the best—then I'm running the wrong race. That's empty.
Bennett was filled with emotion after the Cavaliers beat Krzyzewski's Duke team in the ACC championship game in March 2014. With confetti falling and the school band playing in celebration, Bennett told an ESPN reporter on national TV: "I'm so thankful for my faith in Christ that kind of sustained us when we struggled, and I'm thankful for the joy we have now."
In those moments of exultation, Bennett thought back to the days when his life was rudderless without Jesus and how Philippians 3:7-8 expresses how he feels about the Lord.
"Paul said he considered all things (that he valued) rubbish or loss compared to the surpassing greatness of knowing Christ Jesus his Lord," Bennett said.
"I have great things in my life—my love for my wife, my love for my family, my love for coaching, my love for basketball. Those are wonderful things, but when you line them up in comparison to Christ and the relationship you have with Him, with what He's done for you and with what He's given you, they don't compare. That's the greatest truth I know."  ©2014 BGEA
God loves you. Find out more about who He is and how you can know Him.