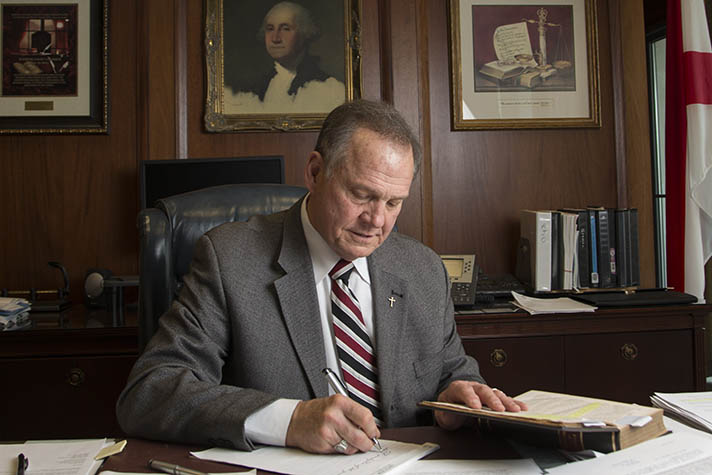 Editor's note: The Alabama Judicial Inquiry Commission filed a formal complaint May 6 against Justice Roy Moore, alleging that he "flagrantly disregarded and abused his authority as the chief administrative officer of Alabama's judicial branch" when he ordered the state's probate judges to refuse applications for marriage licenses by same-sex couples.
As a result of the charge, Moore was automatically suspended from the bench pending a potential hearing before the state's Court of the Judiciary. He stated that the commission had chosen "to listen to people like Ambrosia Starling, a professed transvestite, and other gay, lesbian and bisexual individuals, as well as organizations which support their agenda."
Moore added, "We intend to fight this agenda vigorously and expect to prevail." We profiled Justice Moore in our April 2015 issue. The original article is below. 
Many know Roy Moore as "the Ten Commandments judge" who was removed from his position as chief justice of Alabama's Supreme Court in 2003 for refusing to remove a monument acknowledging the sovereignty of God. Twelve years later, he is once again chief justice and once again at the center of controversy. Moore has taken a strong stand against a federal district court judge who has ruled that Alabama's law against same-sex marriage is unconstitutional. Moore maintains that this federal court has no jurisdiction over Alabama's probate judges, who issue marriage licenses in the state. So as the United States Supreme Court prepares to hear oral arguments this month on challenges to marriage laws in four states, and is set to issue its ruling by the end of June, Roy Moore is doing what he does best—fighting for God and the values this nation was founded upon.
Kickboxer Roy Moore eyed his opponent across the ring. The man had impressive credentials: a second-degree black belt in karate that took years of hard training to attain.
Moore? Like the Karate Kid, he had no official belt to indicate his martial arts prowess. Only a few months of study under a master teacher, and a fierce determination to make this match a symbolic fight against the cronyism, inefficiency and deception in the Alabama legal system that had essentially run him out of town the year before after a failed run for circuit court judge.
Subscribe to Decision
Get your own subscription, or renewal, or bless someone by giving Decision Magazine as a gift.
Subscribe Now
The guy with the black belt never stood a chance.
It wasn't the first time, nor would it be the last, that Roy Moore would stand up to a seemingly more powerful opponent—and win.
Most of the fights weren't physical, and some of them exacted a high personal cost from Moore. There have been painful losses as well as victories. But Moore, now chief justice of the Alabama Supreme Court for the second time, isn't one to duck a fight, especially when it comes to acknowledging the sovereignty of God.
"I think the willingness to fight for God is something every Christian has a duty to do," Moore told Decision. "I don't think I'm any different. I'm just here to do the will of God."
Fighting seems part of Moore's nature. After graduating from the United States Military Academy at West Point in 1969 and serving for a time in Germany, Moore was sent to Vietnam, where he was dismayed by the rampant drug use and lack of discipline he saw among the troops. Realizing that many soldiers under him resented his strict discipline, and learning that some were even plotting to take his life, he had a boxing ring constructed and took on all comers. He won every match.
After the war, Moore returned to civilian life, earned a law degree and served as a deputy district attorney in Etowah County, Ala. It would be years before Moore would come to the attention of the nation as a whole, but no one who saw him around the city of Gadsden or his home in the unincorporated community of Gallant could have missed his focused determination.
While serving in the D.A.'s office, Moore decided to build a permanent home to replace the mobile home he had purchased after returning from Vietnam. True to form, he built the house himself. By hand.
For years, Moore worked on that house. He sledgehammered rocks for the foundation, felled trees to clear land, muscled concrete blocks into place, dug his own sewer line. He notes in his autobiography, So Help Me God, that the foundation of that house still holds, like the one Jesus spoke of in Luke 6:48: "When the flood arose, the stream beat vehemently upon that house, and could not shake it: for it was founded upon a rock."
Storms would indeed come for Moore. During his five years as deputy district attorney, he tried to shed light on problems he saw in the Etowah County court system. Pointing out those problems won him no friends. And when he tried to expedite reform by running for county circuit judge, local judges and other power brokers torpedoed his campaign. Even after his election defeat, they continued to work against him, bringing disciplinary proceedings against him before the state bar. It became impossible for him to work as an attorney in the county.
That opposition only steeled Moore's resolve to fight for what was right. It also led him to Galveston, Texas, where he spent the better part of a year repairing condominiums damaged by Hurricane Alicia and training under world champion kickboxer Ishmael Robles to prepare for the tournament back home in Gadsden, Ala. When he defeated the second-degree black belt on Feb. 25, 1984, he viewed it as a symbolic triumph over corruption and began to feel ready to return to the fray.
But Moore had more than just physical fighting skills to call upon. Shortly before going to Texas, he found a foundation for his life that was even more solid than the one under his house. While in high school, Moore had responded to an invitation to receive Christ during a worship service at First Baptist Church of Gallant, Ala. But it was an experience after his electoral defeat that he views as the time he decisively surrendered his life to Jesus Christ.
Nearly consumed by bitterness toward those who had opposed him, Moore knew something needed to change. "I just had to get rid of the thoughts of vengeance and revenge that had overtaken me," he says. "I was by my bed, and I knelt down and prayed for God to forgive me, to help me forgive others and to accept His rule for my life."
Things began to change, he says, as he realized that nothing, whether good or bad, could happen to him unless it was in God's design. He didn't know it then, but God's design was about to bring some very good things.
After his kickboxing victory, Moore met with some of the judges who had opposed him, and relationships began to mend. In November 1984, he opened his own law office in Gadsden.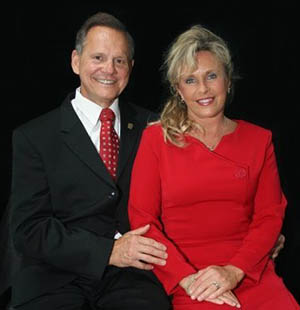 A few weeks later, he was invited to a Bible study to recite a poem he had written. A young woman named Kayla Kisor was also there that night. She had recently returned home to Alabama after working as a model in Atlanta, and shortly before her return, she had committed her life to Jesus Christ.
As Moore recited his poem, Kayla was so moved that a tear ran down her face. Moore noticed, lost his place and had to start over again. The two became friends, and soon their relationship became more serious. "Neither one of us was looking for anybody," Kayla says. "It just is something that God put together, in His timing." The two married in December 1985, a year and one week after they met.
For several years, Moore concentrated on his family and his thriving law practice. But when the circuit judge of Etowah County passed away in 1992, Gov. Gay Hunt appointed Moore to serve out the rest of the judge's term.
As he and Kayla cleaned and decorated his newly assigned courtroom, among the items he brought in was a plaque of the Ten Commandments he had fashioned years earlier. He hung it on the wall behind his bench, and soon the fireworks began. The plaque, combined with Moore's continuation of the longstanding custom of opening trials with prayer, put him squarely in the sights of the American Civil Liberties Union.
The ACLU began to threaten Moore, and after he won re-election in 1994, they filed suit against him. For more than three years, the saga played out in court and in the media. A circuit court judge ruled that pre-trial prayer was unconstitutional but the Ten Commandments plaque could remain. Then he said the plaque had to go, too. The Alabama Supreme Court stayed the ruling and eventually threw out the case for technical reasons in 1998.
Attorney Stephen Melchior represented Moore during those years. "A lot of people thought the Ten Commandments case was about the Ten Commandments," Melchior says. "It wasn't. It was about whether or not a public official can acknowledge God in his role in the government of the United States. It was about the acknowledgment of God—specifically, acknowledgment of the Judeo-Christian God, which is the God our founding fathers looked to in founding the government."
In 1999, Moore entered the race for chief justice of the Alabama Supreme Court, and he won against better-financed opponents. Soon after his election, in the rotunda of the state judicial building, he installed a two-and-a-half ton granite monument that brought more national attention and controversy.
The monument contained key quotes about the founding of the United States—from the Declaration of Independence, the national anthem and some of the founding fathers. At the top were the Ten Commandments.
The ACLU and others filed suit to have the monument removed. A federal district court ruled that the monument violated the First Amendment, and a court of appeals upheld that decision.
Moore refused to comply. "I have no intention of removing the monument of the Ten Commandments and the moral foundation of our law," he said. "To do so would, in effect, result in the disestablishment of our system of justice in this state. This I cannot and will not do." Eventually the other members of the Alabama Supreme Court overruled Moore and had the monument removed. In 2003, he was removed from office because, in the words of the Alabama Court of the Judiciary, his defiance "undercuts the entire workings of the judicial system."
But in 2012, Moore ran again for chief justice and was elected to another six-year term. Although the Ten Commandments issue is over, Moore's fight continues. This past January, federal district judge Callie Granade ruled that Alabama's Sanctity of Marriage Amendment is unconstitutional. Moore instructed the state's probate judges, who issue marriage licenses, that they are not bound by Granade's decision.
And so began yet another round of attacks on Moore. Liberal critics and same-sex marriage advocates have attempted to paint Moore as a George Wallace-type bigot. But legal experts admit—sometimes grudgingly—that Moore is right.
Rena Lindevaldsen, interim dean and professor of law at the Liberty University School of Law, strongly supports Moore's stand. She says Moore is on solid legal footing when he claims that states are not bound to follow a federal district court or court of appeals ruling on the constitutionality of state laws. She adds that the United States Supreme Court has held in the past that marriage is a state matter, not a federal one.
So what will happen if the Supreme Court declares that same-sex marriage is a constitutional right?
"I don't know what that's going to look like," Lindevaldsen says. "We are all watching history unfold."
Regardless, Chief Justice Moore is not about to back down. "We've had over 20 states in recent years bow down to unlawful federal authority without a fight," he says. "God doesn't expect us to lay our principles down and let ourselves be trampled underfoot."
That doesn't mean the battle won't be painful.
"You realize that when Chief Justice Moore takes a stand on things like this, it costs him," Melchior says. "It costs him his job, his pension, his food. He doesn't have some bankroll, some huge trust fund. He is a worker like you and me. Most people don't have the courage to stand up and say 'No.'"
Moore's pastor, Doug Baker of City Church in Rainbow City, Ala., has seen the pressure Moore is under.
"I do not see it weakening him," Baker says. "I do not see it bringing fatigue. But I do see that he counted the cost before he ever started this endeavor. He knew it was going to cost him, but I believe that he is willing, based on his relationship with Christ, to stand up for what he feels like Scripture is telling us."
For his own part, Moore told Decision he aspires to the words of the Apostle Paul: "I've fought a good fight. I have finished my course, I have kept the faith: Henceforth there is laid up for me a crown of righteousness, which the Lord, the righteous judge, shall give me at that day: and not to me only, but unto all them also that love his appearing" (2 Timothy 4:7-8).
Moore quotes the passage and reflects: "I've fought a good fight. Basically, that's what I want to be able to say." D ©2015 BGEA